Blizzard finally releases critically acclaimed Hearthstone game for phones - Android and iOS
6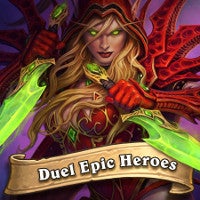 By now, anyone remotely affiliated with gaming has probably heard about Hearthstone – Blizzard's own free-to-play card game, which grows fast and captivates fans easily. The title made its way to mobile a few months ago, allowing users to play on the go so long as they had a tablet (7" screen minimum) to run it on. Fans were promised a pure phone version in the beginning of 2015 and while some of you may think "but it's April!?", those who are familiar with "Blizzard times" will probably feel pleasantly surprised.
So, what's different – the game pretty much looks and feels the same, however, a couple of tweaks to the UI look to keep the graphics uncluttered and effective. Card hands no longer reside behind the hero's portrait, rather, they are placed to the side. To draw a card, you first need to tap the hand once – this will zoom in on it, allowing you to read cards better, and the UI will transform around a bit, showing you a graphical representation of your mana crystals, which are usually shown with a simple number at the right. So, playing on a phone will have you tapping in and out of your "hand drawer", which may be annoying at times, but we're generally impressed with the way Blizzard handled this port.
Hearthstone is a free-to-play game and if you haven't tried it yet, we'd recommend you do. It operates on very simple concepts, however, due to the sheer number of cards and combinations, there is a lot of strategical depth to the game. A perfect soundtrack, animations, and good ol' Warcraft characters will keep you immersed even if you are not a card game buff and you just might end up taking it seriously and trying to climb the ranks, looking for legendary cards (here's a challenge – make it past Level 16!). To top it off, it lends itself perfectly to mobile devices, as the turn-based play and quick matches help with controlled gaming sessions.
So, what hero do you play most with?
Download Hearthstone (free):
iOS
|
Android