MOBA fans, rejoice – Vainglory finally comes to Android!
14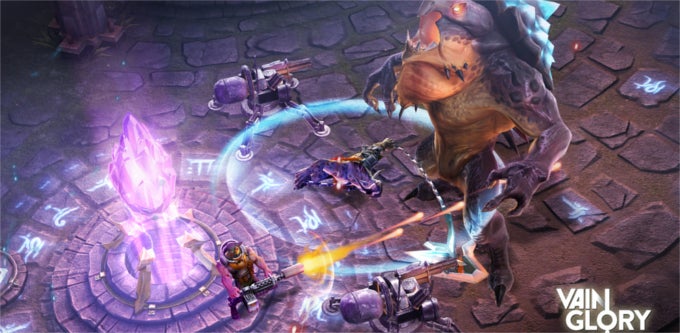 Oh, mobile gaming – whenever a passionate gamer hears this phrase, they can't help but raise an eyebrow. Fact is that, even though mobile devices have became quite powerful, their main input method, small screen, and battery life make them mostly a platform for small, casual titles, rather than hardcore grinders. Well, "mostly"... Some developers have dared release titles that aspire to bring console-grade graphics and gameplay to mobile. The perfect example for that would be the
Modern Combat series
– an FPS that plays pretty familiar once you connect a controller, and has a multiplayer to boot.
Other developers have attempted to bring another popular genre to the mobile industry –
the MOBAs
. If you are not familiar with the term – that's the genre used to describe games like Dota 2 and Leage of Legends. In a nutshell – a MOBA (Multiplayer Online Battle Arena) game pits two teams against each other. Each player controls their own hero (or "champion"), with a bird's-eye-view on the battlefield, much like in a strategy game. The heroes gain experience throughout the match and get unique skills and items with each level. It's a unique mix between action, strategy, and RPG.
Many of you who watched Apple's
iPhone 6
event will remember that the company used
a game called Vainglory
in their presentation. The title was a soon-to-be-released MOBA, which has been
iOS exclusive
up until now!
So, Vainglory is developed specifically for touch-based controls and is a real treat for MOBA-craving gamers who are often on the go. It's free-to-play and the developer claims that players will be able to unlock content by playing through the game normally, but will also have the choice to pay if they wish to unlock things faster. The game is designed for quick, 20-minute matches – a good middle ground between short, mobile-friendly rounds and full-blown Dota-like slugfests.
The game requires Android 4.4.2 or later. It's recommended you play it on a large screen, though, the developer has not placed a limitation on device size (a-la Hearthstone, pre-phone edition).
So, any MOBA fans out there? Will we be seeing you in the field?