Dark Meadow shows how far gaming has come on mobile devices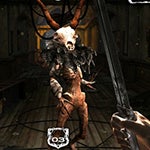 How far have mobile games come? Phosphor's new game, Dark Meadow, is a good example of cutting-
edge
mobile gaming. Available for iOS and "select Tegra-powered devices", the game shows how well mobile devices can power the Unreal Engine. The first-person hack and slash game has moody lighting, great looking textures, and in general it looks like a high end PC game from just a couple years ago.
On the Android side of things, the mobile industry seems to be taking a cue from the PC industry as major chipmakers compete to present games that show off their bits of silicon in the best possible light. NVIDIA has scored a win on this account, as Dark Meadow currently only runs on NVIDIA's Android chipset, most likely because NVIDIA paid to have the game "
optimized
" for their devices first.
not big fans
of seeing Android gaming get fragmented based on hardware manufacturer, but a lot of money gets offered to gaming companies to do just that. In the here and now, however, Dark Meadow is a smart-looking cross platform mobile game.
If the game sounds like your cup of tea, check out the trailer below, and hit up the app market of your choice to download the game, for the low, low cost of free.
market links:
Play Store
,
App Store
source:
Droid-Life