Current Table uses something akin to photosynthesis to charge your devices
4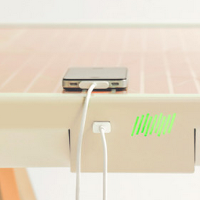 Surely you remember your high school biology class when the teacher told you about photosynthesis. Little did you know that some day you might use a similar process to help charge your battery guzzling gadgets. Working with a company called Solaronix, designer Marjan van Aubel has developed a charging table. You have to love the name of the product,
Current Table
, which has a double meaning. Current as in happening now, and current as in a flow of electricity.
The table is made up of dye solar cells, which can gather energy from light, even if the sun isn't beating down directly on the table. Below the upper edge of the frame is a number of hidden USB ports that are just sitting there, waiting for you to plug in your hungry and thirsty devices.
The designer has a whole collection of glassware that collects light from an ambient sensor. Put your glass on the harvesting shelf and all of that energy is "deposited" into a central bank from where you can access the energy to recharge the battery on your device, using the USB port.
You can see the Current Tablet by clicking on the video below. There is no word when the table or the glassware might be offered to consumers.
source: Marjan van Aubel via
Gizmodo