Cruise lines ban the recalled version of the Samsung Galaxy Note 7
28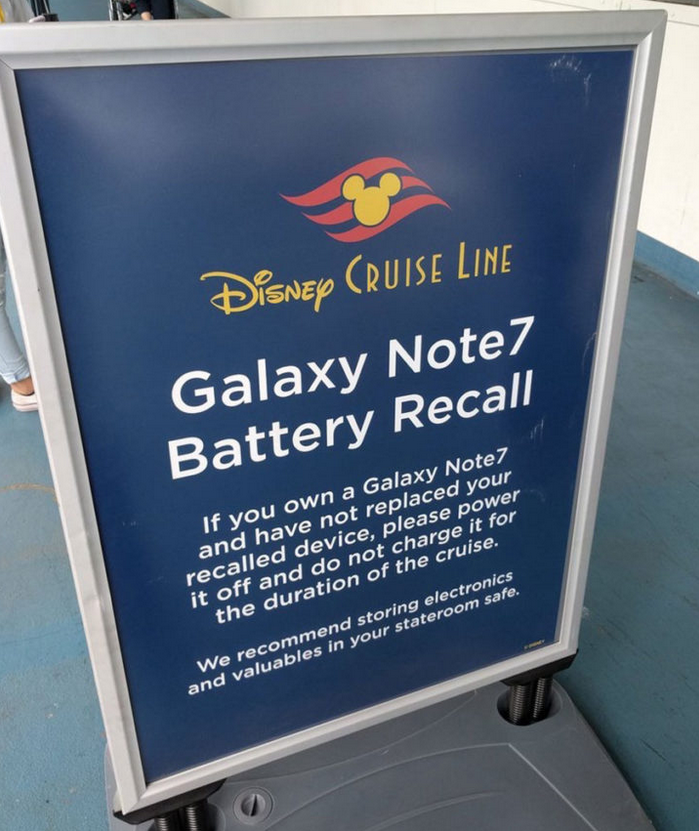 Disney Cruise Lines informs passengers about its policies regarding the Galaxy Note 7
On the same day that
a "safe" Samsung Galaxy Note 7 exploded inside a Southwest airliner
just as passengers started boarding the flight, a number of major cruise lines announced that they are banning passengers and crew members from carrying the
Samsung Galaxy Note 7
purchased before September 15th. The cruise lines that have taken this action include Carnival, Costa Cruises, Cunard, Disney Cruise Line, Fathom, Holland America Line, Princess Cruises, P&O Cruses, Royal Caribbean and Seabourn.
Carnival's website tells prospective seafaring passengers and crew members that if they own a recalled Samsung Galaxy Note 7, the phablet must be turned off and disconnected from the charger. Any apps that could turn on the phone involuntarily must be disabled.
Even though we have seen at least two of the "safer" versions of the Galaxy Note 7 explode, the newer models received in exchange of older units, and Galaxy Note 7 handsets purchased after September 21st are welcome on the ships with no restrictions. To tell the models apart, those with the defective battery sport a battery charging icon in white. Those phones that have the "safe" battery
have the charging icon in green
.
"Guests and crew in possession of an applicable Samsung Galaxy Note 7 smartphone are required to turn off their device, disconnect the device from any charging equipment, disable all applications that could involuntarily activate the device...to prevent its unintentional activation"-Carnival

"If you own a Galaxy Note 7 and have not replaced your recalled device, please power it off and do not charge it for the duration of the cruise. We recommend storing electronics and valuables in your stateroom safe."-Disney CruiseLines
With the older, dangerous models recalled and exchanged, and the newer " safer" models now in stores (depending on the country), the ban shouldn't affect that many passengers or crew members. However, all it takes is one lazy passenger or cruise line employee to put the lives of many at risk.
source:
Carnival
,
Disney
via
SamMobile
Recommended Stories