Google grants Samsung an exception to Android rules for using green battery icons on the 'safe' Note 7
7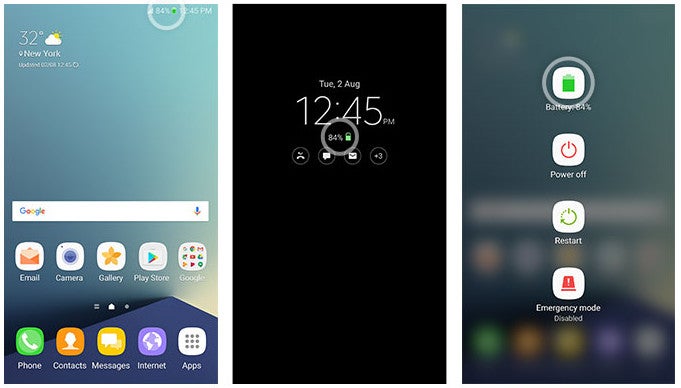 In case you haven't heard, the fresh-out-the-factory-floor
Note 7
units that are
already shipping
to replace the initial batches where the
battery was slightly larger
than the compartment it was meant for (hence
exploding
), will be marked with a
green battery indicator
. Greenifying the battery icons will happen not only in the status bar, but everywhere it pops up, like the Always-on display mode, and the Power off screen, as you can see from Samsung's screenshots above.
Coloring all battery icons with this eco-friendly hue, however, will come via a software update later on, says Samsung in its official memo on the matter, but that little tidbit is tucked in the small print after the announcement, with no asterisk referring to it in the text itself. What could be the reason for that clarification on the hush-hush?
Well, it turned out that altering the battery indicator coloring actually violates Android's Compatibility Definition document, which mandates a lot of the user interface design basics for devices that want to be licensed for shipping with Google apps on board. One of these requirements is that the status bar icons are in white, so that its translucent background doesn't mean they'd clash with a background in a similar color. The Play Store app header is green, for instance, so Samsung's future green battery indicator for the new Note 7 batches could simply drown there and become almost invisible.
Luckily, it seems that Google has granted Samsung an exception to the rules, given the emergency of the situation, provided that Samsung places a white border around the green battery indicator, so that it doesn't merge with some similar coloring underneath it to the point of invisibility, like often happened before Google introduced these basic requirements. Google's Hiroshi Lockheimer himself - the Senior Vice President in charge of Android, Chrome OS, and the Google Play store - took to Twitter to clarify that Google has returned the icon change plans submitted by Samsung with the stamp "approved," as long as they comply with the white border requirement, so there you have it.