Crossy Road update: how to unlock the hidden Totem character from Monument Valley
0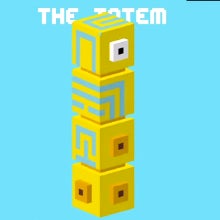 Hipster Whale's
Crossy Road
earned $10 million just three months after its release, which is not bad at all for a self-described "endless Frogger" game, striking a nerve with young and old aficionados alike.
Crossy Road just got updated on iOS with no less than nine new characters, and all are from famous mobile games - Ida, Crow, and The Storyteller from Monument Valley, Qw33goorpps, Hooty, and Shooty Cat from Shooty Skies, as well as Turny and Astronaut from Land Sliders. These can all be bought for $0.99, or unlocked on random with the gashapon machine.
However, the ninth hidden character, reminiscent of the Totem from Monument Valley, can't be bought or won from the dispensary, so what's a gaming soul to do. Well, patience is your friend, here is what you need to do to get your grubby mitts on Totem:
1. Get in the skin of Ida, Crow, or The Storyteller from Monument Valley by either winning them out on the slots, or buying them outright;


2. By playing with one of the existing Monument Valley characters, check out the water and pray for Totem to appear on the pieces of wood floating over there, like it worked with Nessie or the Hipster Whale before;
3. Jump on the log with Totem on it, die and you can get reincarnated as the fourth Monument Valley character at will.