Counter Strike clone for Android and iOS is a free timewaster for nostalgic gamers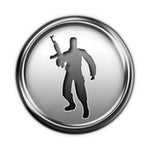 Feeling nostalgic? Then here is a game you might want to check out.
Critical Strike Portable
is a
clone of
tribute to the once-popular first-person shooter Counter Strike 1.6, which many of us, gamers, wasted so much time playing back in the days. The gameplay, the skins, the sounds – they should all look familiar to everyone who has ever tried the original game. Even some of the maps are the same, meaning that old-school gamers will be feeling right at home.
Critical Strike Portable can be played offline with bots or in survival mode against zombies, but the real fun is online where you can challenge real world opponents. Versions are available for Android, iOS, and for a PC as well. Be aware, however, that since the game supports cross-platform multiplayer, you might end up playing against opponents with proper input peripherals, such as a hardware keyboard and a mouse. In such a case, your touch-based on-screen controls might prove to be quite a disadvantage.
Yet nevertheless, it won't hurt giving the game a try since Critical Strike Portable is free of charge, with none of those annoying in-app purchases. Just follow the source link below, grab the game, and get ready for action.