Could the iPhone 8's finger scanner be embedded in the power button?
24
OK, so the
Apple iPhone 8
(or whatever the special anniversary model is going to be called) will most probably have an all-screen design. The leaks and reports have been aplenty, Apple is going the
Galaxy S8
and
LG G6
route. And that's great, but it leaves a big question — since the home button will be gone for that design, where is the fingerprint scanner going to rest?
Early reports suggested
a back-mounted sensor
, but many have since said that Apple is working on a scanner embedded in the phone's display. That's a tech that we've been hearing about for a while, and even Qualcomm is confirmed to be
working on its own variant
. But it's still
unknown
whether Apple will be able to pull off a mass production of the display panels, as some reports say
it's having troubles there
.
So, a lot of people dislike the idea of a back-mounted sensor, but Apple may be unable to deliver a front-placed yet. What's left? Well, it seems that a scanner in the power button may be an option that is still on the table.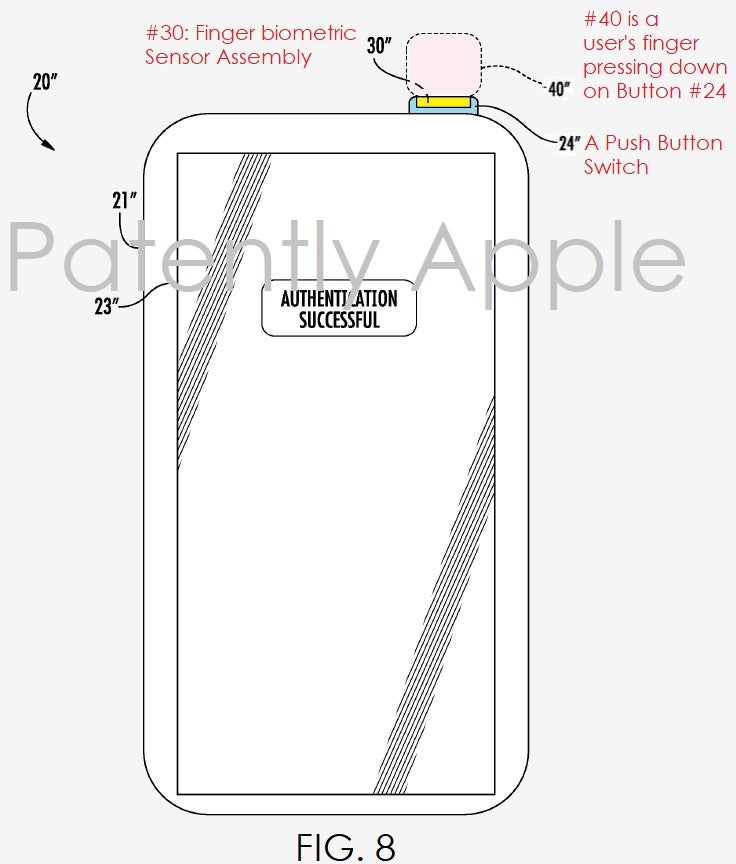 Last month, Apple was granted a patent for a fingerprint scanner, embedded in a thin housing that's located on a device's side. The patent was filed for in Q2 of 2015 and has just been granted this year.
The documentation continues to explain that the sensor may collect biometric data when the user touches it or presses the button. It also says that the device's processor may perform a number of different operations once the user's print has been scanned. This may suggest gesture shortcuts, but we'll see about that.
Seeing as we've seen a bunch of sources draw the iPhone 8 as having an
abnormally large power button
(in designs since the iPhone 6, it has been as large as the volume up and down keys), it's not unlikely that Apple has been toying with the idea of embedding a scanner in it. However, you will notice that the patent's illustration shows a top-mounted power button, something that's found in the design language of the iPads and long gone from iPhones. Maybe Apple plans to do this for a future generation of the iPad Pros?
As interesting as it may be to speculate on these, do keep in mind that patent grants often lead nowhere. Companies would file a patent for some tech, which they believe they might use at some point in the future just in case, but often don't follow through.