3D model made from iPhone 8's schematics leak reveals rear placement possible for Touch ID
44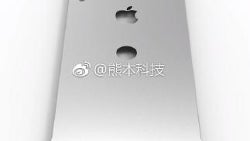 Today, a photograph discovered on Chinese micro-blogging site weibo reveals what the back of this premium iPhone would look like if the leaked schematics contain the design selected for use by Cupertino. Made from aluminum, the 3D model of the rear casing reveals one feature that the iPhone 8 and the Galaxy S8 might share in common.
Unable to work out the kinks that prevented it from embedding the fingerprint scanner under the Galaxy S8 display, Samsung positioned its biometric reader on the back of the phone right next to the rear camera. Apple appears to be having its own issues with its attempt to embed Touch ID under the iPhone 8 screen. According to one analyst,
the company's AuthenTec unit is reporting very low yields with this technology
, and Apple does not want to switch to a third party vendor
to supply it. In fact, the analyst says that Apple would rather have the feature delayed until 2018 than turn it over to a third party manufacturer. And to make matters worse, the 3D sensor for the front camera that is supposed to use face detection to unlock the phone is
also running into problems, and could also be delayed
. Thus, a rear-facing Touch ID button just might become reality yet.
The difference between Samsung and Apple here is that Samsung put its fingerprint scanner on the
Samsung Galaxy S8
and
Samsung Galaxy S8+
so close to the camera lens, that wayward fingers seeking the scanner could end up depositing fingerprints on the lens instead. The schematics show Apple putting a rear-facing Touch ID button in the middle of the rear casing, away from the vertical dual camera lenses.
While
a CAD CAM schematics leak did out the Apple iPhone 6
half a year before it was unveiled, we still would suggest taking this story with a grain or two of salt.
via
GadgetDetected