Cool smartphone and tablet accessories from CES 2012
0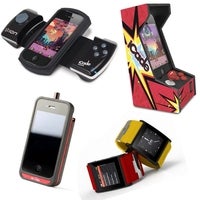 AR.Drone
, the guys at Parrot had also brought their Zik headphones to the expo. And although they don't look like anything more than an ordinary pair of Bluetooth headphones, they actually combine an extraordinary set of features. First and foremost, the built-in microphone allows you to make phone calls while still wearing them. Additionally, an accelerometer senses when you take them off and automatically pauses your music. And if that is not enough, add the touch-sensitive controls to the equation and the NFC support for easy pairing and you end up with a truly unique product in your hands. They sound really good too!
Wrapsol non-slip Grip Pad for tablets
iCade Jr and iCade Mobile
iCade for the iPad
. And what is different about them is that the two new accessories are tailored for use with the iPhone instead. The iCade Jr is like a tiny arcade cabinet, hence its name, and honestly, it has a heartwarming retro look. The iCade Mobile, on the other hand feels a bit more modern. It has a d-pad, four action buttons, four shoulder buttons, and a housing in the middle where the iPhone slips in with ease.