Cook optimistic about Apple Pay getting launched in China; CEO meets with banks and Alibaba
6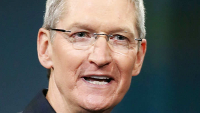 Last month, we told you how
Apple was having problems getting banks in China to agree to its terms
for Apple Pay. Talks with eight Chinese banks failed to lead to an agreement. Some were put off by Apple's take on each transaction run through Apple Pay. The company receives .15% of the 2% that credit card companies get paid from the merchants who accept their cards.
Apple CEO Tim Cook, currently visiting the country, told China's official Xinhua news agency today that his company is still talking with Chinese banks and Alibaba. The latter is an e-commerce corporation in China. Apple hopes to partner with the company and its Alipay mobile payment system, the largest in the country. Alibaba executive chairman Jack Ma said back in October that the company would consider working with Apple on Apple Pay.
But all roads lead to China UnionPay. This is the only bank in the country that handles inter-bank payments and Apple was reportedly close to a deal with the bank earlier this year. Because of its status, this is the bank that Apple needs to do a deal with to get Apple Pay up and running in China. Even though Alibaba uses a mobile payment system that forgoes NFC for a QR code and a fingerprint scanner (built by Alibaba and Apple), it still needs to use UnionPay's NFC supported network to close each transaction.
Cook says that he is in China for Apple Pay related talks and to discuss environmental initiatives to protect forests. He said that Apple Pay could take off faster in China than it did in the U.S., once it is put into place in the country. "
We very much want to get Apple Pay in China
," said Apple's CEO. "
I'm very bullish on Apple Pay in China
."
Cook also told Xinhua that he expects the number of Apple Stores in China to expand from the 22 open now, to a total of 40 locations by next year.
source:
Reuters