Company that turns a smartphone into a drone gets $1.5 million Shark Tank deal
37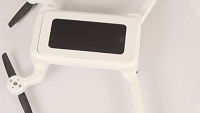 X Craft is a company that manufacturers and sells drones. On ABC-TV's
Shark Tank
yesterday, company founder, president, and CEO JD Claridge stepped in front of the Sharks. By his side was board member Charles Manning. They were seeking $500,000 for 20% of the company, and ended up with a $1.5 million deal involving all five Sharks, for 25% of the company.
One of the cool products under development by X Craft is a device that will turn your smartphone into a drone. A short clip was played during the show, and we discovered a longer 4 minute video that was posted on YouTube back in April. Dubbed PhoneDrone, the device has an opening allowing you to place your smartphone inside it, so that it can take flight. With a special app that is installed on a second phone, users can set a flight plan, even deciding how high the drone will fly. With the PhoneDrone, the rear camera can shoot some great overhead video while in flight.
PhoneDrone works with all iOS and Android handsets. If you know how to use your phone, you will be able to`make it fly. The company has raised some serious money, and with the Shark Tank investment, it looks like the PhoneDrone will be a reality. It still might take some time before this becomes a product that you can buy.
Check out the PhoneDrone by clicking on the video below.
source:
XCraft
via
BusinessInsider