Com 1 Android Wear Indiegogo watch campaign shut down by Google
10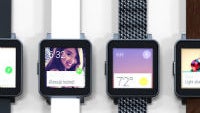 If you had plans to build your own Android Wear device using crowd-funding, that may not be as easy as you would like. The whole story is a bit curious, but what we know right now is that there was an Indiegogo campaign for an Android Wear smartwatch that has been shut down by Google for "rights infringement".
The campaign was for the Com 1 smartwatch. It began a couple weeks ago, but was abruptly terminated last week. It seems that Google sent a letter asserting that its intellectual property rights had been violated by the campaign, which used unlicensed materials. It could simply be that the Com 1 didn't have approval to use Android Wear marketing screenshots in the simulated device renders. Android may be open source, but Google Apps are not, and the images clearly show Hangouts notifications. Or, it could also be that the campaign was done through Indiegogo, which does not require a working prototype or that funding goals are met in order for a company to get paid. As such, there are a lot more issues of fraud with Indiegogo compared to Kickstarter, and it is possible that Google simply didn't want there to be a future issue where this campaign used Google imagery only to swindle money from people.
Of course, while there is potential for fraud, Com Watches seems to be on the level, or at least it wants to prove itself. This weekend, Com Watches tweeted that it will be processing refunds "as a sign of good faith" until the dispute is resolved; and, it already has a backup plan in place. So, we'll have to keep an eye on Com Watches, and see if good things can come.