College students face cellphone addiction
12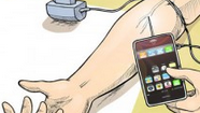 With many college students living on their own for the first time, some start drinking socially, and before you know it, they are alcoholics. And college students often find themselves taking drugs, with some becoming addicts. But a report from Baylor University warns of another addiction that could soon be affecting some of today's college students: cellphone addiction.
Published in the
Journal of Behavioral Addictions
, Baylor's report says that female students are spending ten hours a day staring at their handsets, two hours more than male students use their phones. The researcher behind the study notes that the excessive use of smartphones is leading to a downward spiral in academics. The number one activity that college students use their phones for is texting, at an average of 94.6 minutes a day. Sending and receiving emails is next at 48.5 minutes, followed by checking Facebook (38.6 minutes), browsing on the internet (34.4 minutes) and listening to music. (26.9 minutes).
60% of students say that they are addicted to their cellphone. Some students even admit that they become agitated when they don't see their handset in sight. The use of some applications can predict cellphone addiction. For example, based on the study, the use of Instagram and Pinterest are seen with those who say that they are addicted to their phones.
According to researcher James Roberts, cellphones could be used to help students cheat, or help them escape the pressures of the classroom. Roberts says that the device is a paradox in that it is freeing and enslaving at the same time.
"As cellphone functions increase, addictions to this seemingly indispensable piece of technology become an increasingly realistic possibility."-James Roberts, researcher
If you start feeling anxious whenever you can't find your phone, you might want to wean yourself from your handset before your addiction worsens, and you are jonesing for the feel of a touchscreen on your finger.
source:
BaylorUniversitry
via
Gawker