Operator of The Weather Channel app sued by City of L.A. for misusing location data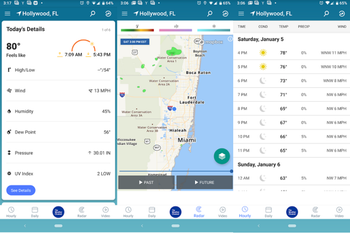 Many smartphone owners like to install a weather app to help them stay abreast of the latest forecast. Most people assume that there isn't much difference between these apps, so they go with a name they know and trust, such as The Weather Channel app. As it turns out, you might trust The Weather Channel for the forecasting abilities of its meteorologists, but perhaps you should not have trusted the app with your location data.
Los Angeles City Attorney Mike Feuer said yesterday
(via
CNN
) that the City of Los Angeles has sued TWC Product and Technology LLC, the company that runs The Weather Channel app. The filing claims that the app is "covertly mining the private data of users and selling the information to third parties, including advertisers." Feuer adds that TWC is putting corporate profits ahead of the privacy of its users, tracking their whereabouts 24/7.
According to the suit, The Weather Channel app used its geolocation tracking technology to determine where users live, work and visit, and the time spent at each location. The filing goes on to say that this monitoring takes place around the clock. The attorney also accuses the app's operators of telling users that their location data would be used only to provide them with "personalized local weather data, alerts and forecasts." Instead, this data was allegedly sent to affiliates of parent company IBM and third party firms where they were used for advertising and non-weather related purposes.
Feuer notes that The Weather Channel's true use of its geolocation data is hidden among a massive 10,000 word Privacy Policy. As a result, 80% of the app's users ended up agreeing to allow the app to access their location data. He goes on to say that the app collects one billion pieces of location data every week.
The suit asks for an injunction prohibiting TWC from "continuing to engage in allegedly unfair and fraudulent business activities, including deceptively collecting and selling personal data." The filing also asks the court to assess a civil penalty against TWC in the amount of $2,500 for each violation of the Unfair Competition Law, and an additional $2,500 for each violation of the Unfair Competition law committed against senior citizens and disabled persons.


For those would-be lawyers out there, the suit can be found right
here
.