Chen: Xiaomi and Obi are not competitiors
11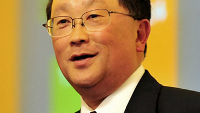 With its controversial flash sales, Xiaomi has been taking the Asian market by storm. Now in
the midst of expanding into India
, the manufacturer is shaking things up in that country as well. But that doesn't seem to bother BlackBerry CEO John Chen. Chen says that Xiaomi and Obi, two manufacturers known for their production of high spec'd handsets at a low price, are aiming at the opposite end of the market that BlackBerry is focused on. "
We don't consider (Xiaomi and Obi) as competitors since they play to a lower end market and do not pose a threat across our broad set of capabilities
," said Chen. The BlackBerry executive considers his company to be more than just a handset provider as it offers a complete mobile solution with its BES platform.
In India, where the BlackBerry name is still held in high regard, the manufacturer has been undercut on price by both Xiaomi and Obi. But Chen says that his phones are priced to sell. When pressed about pricing, the executive said, "
I believe the pricing of our devices is competitive, especially for the higher value that BlackBerry delivers. The

BlackBerry Z3

, for example, has an attractive price point for the features and benefits it provides
." The
BlackBerry Z3
, the first 'Berry targeted for the emerging markets and produced through a partnership with contract manufacturer Foxconn, is priced at $245 USD to $263 USD. That compares with a price of $231 USD for the higher spec'd
Xiaomi Mi3
. Obi, founded by former Apple CEO and soft drink whiz John Sculley, has priced its flagship Octopus S520 at $198 USD.
BlackBerry has cut pricing on a slew of devices in India, such as the
BlackBerry Z30
,
BlackBerry Z10
,
BlackBerry Q5
,
BlackBerry Curve 9320
and
BlackBerry 9720
. Despite the cuts, BlackBerry is not one of the top five smartphone manufacturers in India, according to IDC. That list is led by Samsung (29%), Micromax (18%), Karbonn (8%), Lava (6 %) and Motorola (5%).
In developed countries, where the smartphone markets are driven by specs, not price, Chen has a high-end model close to launching. The
BlackBerry Passport
is the flagship handset 'Berry fans have been asking for. The Passport features a 4.5 inch 1440 x 1440 resolution screen, packs the Snapdragon 800 processor, 3GB of RAM and a 3450mAh battery. The secret sauce is a quirky QWERTY keyboard with contextually based virtual keys, to go along with the physical keyboard. The latter also doubles as a touch pad.
source:
BGR