Chen: BlackBerry did the right thing in giving Canadian cops its decryption key
43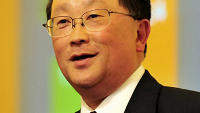 BlackBerry CEO John Chen wrote in today's edition of the
Inside BlackBerry
blog, that the company was being a "good corporate citizen" by turning over its decryption key to Canadian police back in 2010. We're not sure which firms Chen had in mind when he said, "we are indeed in a dark place when companies put their reputations above the greater good," but we are sure that a few will come to your mind immediately.
The Canadian police have had BlackBerry's global decryption key since 2010, and the Royal Canadian Mounted Police have intercepted and decrypted over one million BlackBerry messages during an investigation that ran from 2010-2012. The RCMP is Canada's federal crime breaker, and was digging into a mafia related killing during that time period. The information retrieved by the agency led to seven guilty pleas in the murder of Sal "the Ironworker" Montagna. Alleged to be a member of the New York Bonanno crime family, Montagna was gunned down in Montreal.
With the media rediscovering this case, and BlackBerry's part in getting the guilty pleas, Chen wrote a piece for the company's blog today. In it, he wrote that "(We) stood by our lawful access principles. Furthermore, at no point was BlackBerry's BES server involved." The executive adds that its MDM is impenetrable with no backdoor access.
This is a difficult maze that smartphone manufacturers are navigating as they try to balance the privacy obligations that they have to their customers while still operating within the parameters of the law.
"For BlackBerry, there is a balance between doing what's right, such as helping to apprehend criminals, and preventing government abuse of invading citizen's privacy, including when we refused to give Pakistan access to our servers. We have been able to find this balance even as governments have pressured us to change our ethical grounds. Despite these pressures, our position has been unwavering and our actions are proof we commit to these principles."-John Chen, CEO, BlackBerry
source:
BlackBerry
via
Crackberry