Take a look at live photos of the rugged Samsung Galaxy S8 Active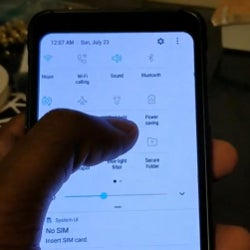 Since 2013, Samsung has produced a rugged version of its current flagship model. For example, this year we will see the Samsung
Galaxy S8 Active
. Designed for those with an active lifestyle or for those who have trouble holding on to their phone, the Active series is designed to take a licking and keep on ticking. And traditionally, the Galaxy Active handsets have been exclusive in the U.S. to AT&T.
While
we have seen some leaked images of the Samsung Galaxy S8 Active
, today we have several live shots showing the handset in action, and another photo revealing what the back of the phone will look like. As you might expect, the phone does not completely resemble the Samsung Galaxy S8 because of the enhancements needed to make sure that the 5.8-inch display can survive a 5-foot tumble. That happens to match Motorola's ShatterShield, which guarantees that the Moto Z Force (and soon the Moto Z2 Force) display won't shatter or crack after a five foot fall. The difference though, is that the Galaxy S8 Active has a frame that meets military standards to protect the insides of the phone during a free fall.

Additionally, the Active series is known for offering larger capacity batteries than the ones you'll find on the latest Samsung flagship model. Last year's Samsung Galaxy S7 Active carried a 4000mAh cell, so would could see a small increase this year.

Check out the pictures of what is allegedly the Samsung Galaxy S8 Active by clicking on the slideshow below.


Images of the Samsung Galaxy S8 Active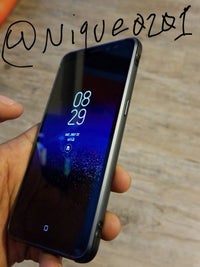 source: @Nique0201, via DroidHolic