Charlie Rose has picture taken by Project Glass
3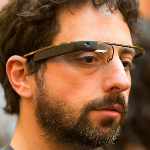 Google set the Interwebs abuzz earlier this month when it finally announced what we knew was in the works: augmented reality/always connected glasses.
Project Glass
, as it is called, was given an intro video, but we never really got to see the glasses actually in action, aside from a mock video or two. We did get to see Google co-founder
Sergey Brin wearing the glasses
, but that was about it.
We still don't know everything the glasses can do, but now we have a photo taken with the glasses. The picture was taken by Google X founder Sebastian Thrun during an interview with Charlie Rose. Thrun has also been known for his work on Google's self-driving car, and he likes to show off his awesome life (just last week, he share a picture of a self-driving Lexus driving him to Lake Tahoe.)
As you can see, the Project Glass camera isn't one of the better ones out there, which is not really a surprise. We would have hoped that the bright lights of a TV set would give enough light to get a clear picture, but the overall image is a bit fuzzy. Not to mention, Google needs to work on the auto-white balance software, because otherwise Charlie Rose has a pretty bad case of jaundice.
Thrun only spoke a bit about the glasses with Rose, but did say that he thinks Project Glass will succeed where other augmented reality products have failed because the glasses help people to interact with each other. It was an interesting interview with an interesting guy. The full video is at the source.