"Category-killer" experience required by Apple to go after an entry level smartphone
11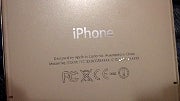 Now, many rumors and wishful thinking are pegging Apple at going after the 1 billion strong prepaid market with a
more affordable handset
than the next iPhone. Even
Apple's Tim Cook himself hinted at the idea
not long ago.
This last one, however, comes straight from the RBC analyst Mike Abramsky, who met with Tim Cook and Peter Oppenheimer on Wednesday, and issued "key takeaways" from the conversation.
While we don't know if these exact words have been used by Apple's senior managers, Abramsky writes that Apple is considering an entry level smartphone only if it provides "
innovative, category-killer
" experience. We'd say that whatever iOS-powered gizmo Cupertino produces for $100 bill of materials, slaps its logo on it, and sells it for $250-$300, will eat a sizeable chunk of the prepaid market anyway.
This might be the
iPhone 4 fusion we saw suggested the other day
, with the dual-core A5, but cheaper plastic chassis, an updated iPod touch with cellular radios, or something completely novel - it will still be the unique Apple experience, if it runs iOS, and will keep the huge profit margin range Cupertino enjoys on each of its cell phones. The watered down iPhone 4, however, might only be going to
exclusive agreements with carriers like China Telecom
, alongside with the premier next iPhone, as we heard the other day, while Apple is slowly testing the water for a full-on assault of the huge prepaid market. Such a move would definitely not be for financial, but rather strategic reasons, as Apple rakes in 2/3 of the mobile industry profits with only 6% of the market anyway.
Let's not forget also that
Cupertino was working with Gemalto on a programmable embedded SIM module
, which will allow you to switch carriers via a simple app, before the European carriers went Tony Soprano and
threatened to cut the subsidies for the iPhone
, afraid they might be rendered mere dumb pipes for voice and data by such a move. Apple might not have given up on the idea, though, and kept it for these eventual entry-level phones for emerging markets altogether.
via
AppleInsider