NY Times: Apple planning a cheaper, but not smaller, iPhone
9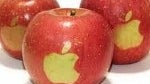 We recently passed along to you the rumblings from both the
Wall Street Journal
and
Bloomberg
that Apple was planning a smaller version of the iPhone to be released in the warmer months. Normally, you can't find much more prestigious names in the world of journalism than those two, except for-perhaps-The New York Times. And today, the Times weighed in with a different story.
According to the paper, "Apple is not currently developing a smaller iPhone," and the Times adds that the Cupertino based firm is "not planning to introduce a smaller iPhone anytime soon." An anonymous Apple engineer tells the Times that it wouldn't make sense for the company to produce multiple form factors at the same time. The engineer said that cheaper components, not a smaller sized device, would lead to a lower priced Apple iPhone. The Times also adds that Apple engineers are totally focused on the iPhone 5 and do not want to force developers to re-work apps to fit a smaller screen size. A smaller model would also be harder to operate. Apple CEO Steve Jobs, back in October, pointed out the fragmentation of the Android OS when he said, "We think Android is very, very fragmented and getting more fragmented by the day. We think this is a huge strength of our approach compared to Google's." Producing a smaller Apple iPhone model at this point would make it appear that Apple is following Google by manufacturing multiple models at the same time.
The anonymous Apple employee, who has worked on a few versions of the iPhone, says that changing the internal components of the device could help bring the price down which would expand sales and broaden distribution of the phone. Apple also is considering making MobileMe a free service. Currently costing $100 a year, the application allows iPhone users to store photos, music, files and other media online where they can be instantly accessed by the handset. Apple believes that if more users store their media online using a wireless, free version of MobileMe, the amount of flash memory on the iPhone-a very expensive component-could be reduced which in turn could lower the price of the phone without making it smaller. And that could prove very profitable for Apple. Sanford C. Bernstein analyst A. M. Sacconaghi Jr. said that a lower priced version of the iPhone could increase unit sales sixfold.
source:
NYTimes
Recommended Stories