Case manufacturer and on-line retailer both slip, reveal pictures of the Nokia Lumia 929
10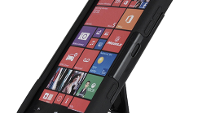 The last time we had some news on the
Nokia Lumia 929
, we reported that the
device might be branded the Nokia Icon when it launches
. The same report listed a possible January 16th release date for the phone. Before that, we showed you some
exclusive pictures of the Noki
a Lumia 929 that one of our loyal readers had sent to us
after he purchased a prototype of the handset in Mexico. Despite all of this attention put on the model, it has yet to have been made official by Nokia and Verizon.
It seems that the manufacturer of the Armor Stand Case might not have known that the
Nokia Lumia 929
has yet to have been announced, as pictures of the device wearing the case were revealed on the Wireless Ground website. Perhaps the latter shares some of the blame as well, for actually posting the pictures.
The case itself happens to look as though it could offer protection for the phone, thanks to its two layers. The first is made of silicon and protects your Lumia 929 if you accidentally drop it. The second layer is made of hard plastic and not only offers more protection, it also provides a grip so your butterfingers won't be an issue. The case includes a stand that allows you to prop up your handset in order to watch movies, television shows and other videos.
Originally priced at $19.95, Wireless Ground has the accessory priced at just $11.95. And while that is all well and good, the main point here is that we have more pictures of the Nokia Lumia 929 to stare at before the phone has even been introduced. If the rumored January 16th launch date is legit, we still could be a couple of weeks away from Nokia and Verizon making the phone official.
source:
WirelessGround
via
WMPoweruser