Nokia Lumia 929 may launch as the Lumia Icon on January 16th
14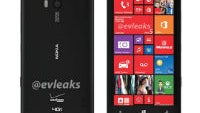 Naming consistency is different for every company. Samsung uses the Galaxy S and Galaxy Note branding for its flagship products. Motorola seems to be going with the Moto branding for its new devices, while sticking with the DROID branding when working with Verizon. And, Nokia has used a simple numbering system with its Lumia devices. The higher the number following the Lumia brand, the better the device.
But, a new rumor is claiming that Nokia may be moving away from that system. The carrier exclusivity of certain devices can get confusing - for example, the Lumia 920 was an AT&T device, the 925 was for T-Mobile, and the 928 was for Verizon - but sorting out the difference between devices on the same carrier can also be confusing. There isn't a huge amount of difference between the Lumia 928 and the upcoming Lumia 929 for example.
Evleaks said earlier this month that the Lumia 929, bound for Verizon, was being developed under the codename "
Icon
". Now, Evleaks is back with a new rumor that the device may actually be released as the Nokia Lumia Icon, and not have the numbers at all. There is also talk that the device could be seeing Verizon store shelves on Thursday January 16th, but right now that seems to be a guess.