Case for Xperia Z4 tips that it won't be Z3's identical twin
18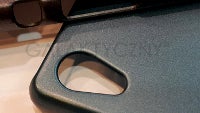 If you thought the upcoming
Sony Xperia Z4
looks identical to the
Z3
before it, you might have a point... to an extent. Despite what seems to be a now-traditional Xperia flagship shape and form, the Z4 will be different than its predecessor, suggests the layout of a case that is reportedly made specifically for Sony's 2015 flagship.
The cutouts indicate that the microUSB port has been (thankfully) moved at the comfortable bottom, while the magnetic charging connector might have been scrapped altogether. Does this mean that the Sony Xperia Z4 won't have a flap over the microUSB port, hence won't be waterproof? We doubt that, but the overall design would indeed differ from the Z3, what with the even more rounded corners and all.
The internals are also likely to get a significant upgrade, though we wouldn't hold our breath for a Quad HD display resolution, as the battery life - Sony's pride and joy - would take an unnecessary hit from that.