Captured journalist uses mobile Twitter to escape
5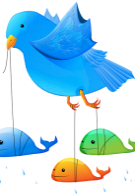 Japanese journalist Kosuke Tsuneoka was held in a prison in Afghanistan. After being missing for days, he was able to give hope to his family and arrange his release from his Twitter account (of all things).
It's not exactly something you might see in a movie, but Tsuneoka was able to trick his captors into letting him give them a mobile Twitter demonstration. When Tsuneoka's jailer inquired about his
Nokia N70
, he offered to show him how to use it. In the process, he was able to activate the device, and send messages to his family and friends about the location of his captivity, leading to his escape.
When we think of Twitter, or any other social networking application, we rarely think of it as tremendously useful or significant. When we include the postings from the Iranian election, their significance and utility has been proven now at least twice. Tweet away.
source:
PCWorld
via
IntoMobile