Can the HTC Desire EYE beat the HTC One (M8) flagship?
22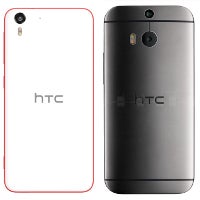 It seems like HTC is playing safe with its entry in the selfie-centric smartphone segment - it did not bother to merely put a 5MP or an 8MP camera at the front of the
just-unveiled Desire EYE
. Instead, it decided to snap a game-changing 13MP selfie-shooter on the device and make its direct rivals play catch. The same applies to HTC's current flagship, the aluminum
HTC One (M8)
, which comes with a more-than-adequate, yet still smaller than the Desire EYE's 5MP front camera.
Still, when one considers whether to purchase a given device, be it solely for the selfie prowess or not, they usually evaluate all the strong and weak points of the device. That being said, it's highly unlikely that the Desire EYE will mop the floor with the HTC One (M8), even though the former comes with pretty similar, if not better, hardware specs. The One (M8) will undoubtedly beat it in the build and design departments, while the Desire EYE might have a big advantage in the camera segment and run circles around One (M8)'s Ultrapixel Duo camera
We've already compared the devices size-wise and put them against one another in an improvised camera battle, so now we ask you: which one of these devices would you get, the HTC Desire EYE or the HTC One (M8)? Cast a vote right below!