Can Android be a $10 billion business? Google has 98.3% of the mobile search market
This article contains unofficial information.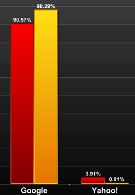 Google is expecting many things from its Android platform. Like, say, $10 billion in revenue annually. That seems a number that is very optimistic, especially considering that manufacturers pay Google nothing to use the OS; but as CEO Eric Schmidt points out, "If we have a billion people using Android, you think we can't make money from that?" The executive says that to reach $10 billion, all Google needs to do is to collect $10 from every Android user. One plan that the Mountain View based firm is cooking up is to sell newspaper subscriptions. Google is also developing a social networking site that it expects will match Facebook.
Currently, Android phones are being activated at a rate of 160,000 handsets per day. This allows for continued widespread growth of Google branded apps like Maps, Google Search and others. Will Google be able to monetize all of these things into $10 billion of revenue every year? One thing that many have learned in the industry is not to doubt Google. After all, according to Statcounter, the company controls an amazing 98.29% of the mobile search market. Yahoo is second with an .81% share with Bing tied with "Others" for third with .46%. If Google can put up those kinds of numbers, who knows, maybe $10 billion in annual Android revenue will turn out to be too light.
source:
TechCrunch
,
WSJ