Campaign video reveals that Jeb Bush votes Apple
41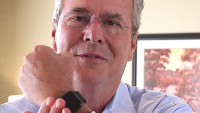 Republican presidential hopeful Jeb Bush is different than his father and brother, both of whom ended up in the White House. For one, the former governor of Florida appears to have a personality and some wit. He also seems to be aware of the world that is going on around him. An example of that is a cute video produced by the Bush campaign that reveals
Jeb's Silicon Valley Favorites
.
We all know that
the current president has a thing for his BlackBerry handset
. Obama's BlackBerry addiction dovetails perfectly with the security afforded by BlackBerry devices, making the president's personal choice of phone a non-issue. But it could be a problem if Jeb wins in 2016. Picking between the Apple iPhone and a BlackBerry, Bush goes with the iPhone which could make him the first Commander-in-Chief to bring iOS to 1600 Pennsylvania Avenue. Will the Secret Service allow him to continue to make it his daily driver?
Other choices made by Bush include the MacBook Pro over the iPad, and a driverless car over the Seqway ("
I can't wait
," he says). He also chooses his own wardrobe over the turtleneck and jeans look made famous by Steve Jobs, and the hoodie worn by Mark Zuckerberg. And when asked to choose between the Apple Watch and Apple Pie, Bush proudly shows off his Apple branded smartwatch.
Being an Apple fan isn't going to automatically put Bush in the White House. After all, no responsible American of voting age is going to vote for a presidential candidate just because he/she favors one mobile platform over another. Right?
source:
JebBush
via
RedmondPie