Camera-centric Nokia Lumia 1020 stars in Bollywood music video
17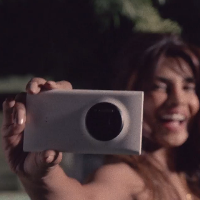 Like automobile enthusiasts who like to point out each model that passes by ("Look, that's a 1962 Rambler"), many of our loyal readers like to show off their knowledge of smartphones by calling out the name of a model that appears on a movie or television screen. If you have the habit of calling out smartphone manufacturers in a crowded movie theater, you probably will be told to get a life by those in attendance. On the other hand, jumping up and screaming that Donnie Wahlberg uses a
BlackBerry Bold 9900
on the hit CBS show
Blue Bloods
will probably just earn you a rebuke from your spouse or significant other.
What bring this up is an appearance by the
Nokia Lumia 1020
, on a music video by Bollywood singer and actress Priyanka Chopra. The song is a cover of the Bonnie Raitt tune, "
I Can't Make You Love Me
." Check it out by clicking on the video below. The device is not even a year old, and will be getting the Windows Phone
8.1
update
as will all Nokia Lumia models running on Windows Phone 8
.
Because production of the phone occurred before the GDR3 update allowed Windows Phone manufacturers to use quad-core silicon and support larger screens, the Lumia 1020 is powered by a dual-core 1.5GHz Qualcomm Snapdragon S4 Plus with the Adreno 225 GPU. The device is equipped with a 4.5 inch AMOLED screen with resolution of 768 x 1280. Still, the device does offer 2GB of RAM. Imagine what kind of specs Microsoft could stuff the sequel to this phone with now.
Thanks for the tip, Harsh Doshi!
source:
Vevo