CLIQ update delayed until week of February 22nd?
This article contains unofficial information.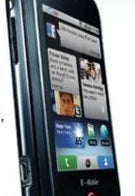 When we
reported
that the Motorola CLIQ was to get a minor, housekeeping update by the end if the week, with tongue in cheek we alluded to the failure of Motorola to roll out the Android
2.1
upgrade to the DROID last week as it originally said it would. But there is a big difference between upgrading an OS and sending out light changes like improvements to battery life, the touchscreen and the GPS, and support for .wma and .wav videos among other things. We said that we would believe Motorola when we saw the update hit the CLIQ. Well, believe it or not, the manufacturer failed again because the majority of users of the device did not receive the changes. Now, the update is scheduled for the week of February 22nd. The news here is that once again, Motorola sent out a tweet promising a change to a handset within a specific date and then could not meet their own deadline. It makes you wonder what is going on. Apparently, some of the handsets owners have indeed received the upgrade automatically, and some are reporting via tweets and on various forums that the update for the CLIQ can be found by doing a manual search for updates. The bottom line is that for most CLIQers, the software was not improved and while it might only be a difference of a few days, why should Motorola send out the tweet in the first place if it isn't planning on living up to its own words? If you were one of the lucky ones who received the upgrade, let us know if there are any visible changes to your experiences with the phone. If you had to manually find the update, let us know that, too. After all, with all of these problems for a minor change, what will happen with a 2.1 upgrade? Oh wait, we already know the answer to that one.
Motorola CLIQ Specifications
|
Review
source:
TmoNews