Motorola promises CLIQ upgrade this week; DROID 2.1 upgrade for end of month with Flash?
8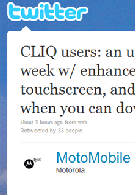 Web site droid Life was told the reason for the Android 2.1 upgrade delay for the DROID. A contract worker who does work for Big Red asked a Verizon manager what happened to the update. He was informed that Verizon now plans on rolling out Android 2.1 at the end of this month with Flash included! If true, Verizon and Motorola would be killing two birds with one stone bringing pinch-to-zoom to the browser along with Flash capabilities. DROID owners might call it the happiest day of their life.
In the Deja vu department, Motorola sent out a tweet promising that CLIQ owners would be receiving an upgrade this week. Raise your hand if you've heard this story before. Before you get too excited, no, this is not the 2.1 upgrade. It merely takes care of some light housekeeping like extending battery life and fixing bugs with the GPS and the touchscreen. Again, we will believe it when we see it. Motorola's track record in this area is not exactly golden.
Motorola DROID Specifications
|
Review
Motorola CLIQ Specifications
|
Review
source:
droidLife
(DROID),
Twitter
via
TmoNews
(CLIQ)