CDMA version of Toshiba's TG01 planned?
This article contains unofficial information.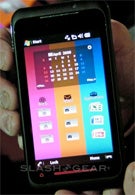 All it takes is a small clue to determine someone's intentions. It may not be done on purpose, but the best detectives will tell you that sometimes you can learn a lot by just using your eyes. For example, when Toshiba announced the TG01 yesterday, it was announced as a model supporting GSM 3G HSDPA/HSUPA using Qualcomm's Snapdragon QSD8250 chipset. Toshiba said to expect a European launch in the first half of this year. But if you look closely at the picture of the unit, on the side casing you will find "QUALCOMM 3G CDMA" printed. Now this could mean that a U.S. version of the handset is heading to the States, or it could mean nothing. What is interesting is that the QSD8250 has a sister version, the QSD8260 with both HSPA, as well as CDMA2000 1xEV-DO Rev. B capabilities. With a 4.1 inch display, and a speedy processor under the hood, this could be the iPhone killer although we have heard that song before. Those who have seen the device in action have sung high praises about the sharpness and clarity of the display. Now you can get a look at the TG01 in action by watching the video below.
Toshiba TG01 GSM Specifications
source:
SlashGear