Brydge is an iPad keyboard dock that wants to look like a MacBook Air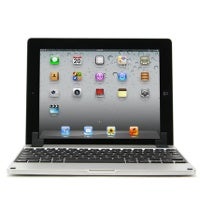 Brydge is probably one of the most elegantly designed keyboards docks for the iPad and this really is a compliment given the myriad of options available. It's not much different than other iPad keyboard docks in functionality - you just get a keyboard with the option for additional stereo speakers, but it's designed using premium materials like aerospace-grade aluminum for maximum durability. Of course, it also has a
full QWERTY keyboard
with specific iPad functions built in and it allows charging via USB.
Brydge also comes with a solid hinge offering
180 degrees of iPad rotation
and secure hold of your tablet. The hinge itself is pretty elaborate and a patent for it is pending. The hinge is made of metal alloys and magnets, with a thermoplastic elastomer shell, all fancy words describing how you can easily hold the tablet and have the keyboard tightly attached and not falling.
Brydge has been on Kickstarter for a short while but it already broke its funding requirement of $90,000 and is on its way to become another solidly overfunded project. An early pledge of $150 would've gotten you the keyboard dock, but now that option is sold out and the minimum
entry point stands at $170 for the dock
without speakers.
What Brydge doesn't provide is a mouse or a touchpad, both things you'd need if you want to emulate a MacBook Air experience on your tablet. If you're fine with that, you need to know that Bridge will work with both iPad 2 and the new iPad, but does not support the first-gen Apple tablet. Overall, when you have the keyboard with the iPad closed, it's just a hair thicker than the MacBook Air at 0.33 inches. Check out the video below for all the details, and jump on to Kickstarter if you want to reserve yours now.