Boxy LG Vu 3 may be in the works
9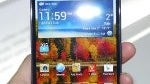 Remember LG's Optimus Vu (the LG Intuition in the US) line of phablets? Of course not, they never really took off in the western hemisphere. And it's no surprise, considering the odd 4:3 aspect ratio, resulting in a uncomfortably wide device with a not-too-impressive 5-inch IPS display, all things considered. The rest of the internals were fairly acceptable, but no match for its rival – the Galaxy Note II. Regardless,
LG did manage to sell about a million
of the uncomfy handsets in its homeland of South Korea.
Recent information reveals that a refreshed LG Vu 3 may be in the works. A few days ago Japanese blog
RBMEN
unearthed a panoramic picture taken by a device with a model number "LG-F300L" The photo reads vu3_vr_panorama[1].jpg solidifying the suspicion that the F300L is the LG Vu 3. In addition, a screenshot of the alleged Vu 3 has appeared, suggesting that its screen has resolution of 1280x960 pixels, keeping the same 4:3 aspect ratio as its predecessors. What this means is that it will not only have unimpressive pixel density, but also probably result in the same boxy exterior its predecessors were known for.
Recommended Stories