Both iPhone 7 variants will offer up to 256GB storage, says report
41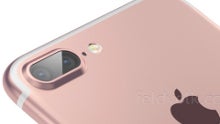 If recent reports are to be believed, Apple could make some significant changes to the storage options of its next-generation iPhone. Earlier this month, it was revealed that the
iPhone 7 Plus
could max out at a whopping
256 GB of real estate
. Supposedly, the 5.5-inch variant will include a significantly better camera than its less sizable counterpart, and thus, more space will be required to carry the heavier photo and video file sizes. Now, though, it's being reported that the standard
iPhone 7
may also join the party.
Since Apple's handset doesn't allow for expandable storage, this move will surely be welcomed by digital hoarders far and wide. Even with the rise to prominence of cloud services, you just can't beat local storage for speed and overall convenience. Not only that, but you don't need to eat into your data allowance by downloading your files from a remote server, and you save on the usual monthly fees charged by Google Drive, iCloud and the like.
According to research firm
TrendForce,
Apple is all but decided on the specs and features of the forthcoming iPhones. Users who require up to 256 GB of storage will, it seems, be able to get their wish. There's no word on how much buyers will need to pony up to snag these top-level editions, though given Apple's current and previous pricing structure, it's safe to assume that there will be a $200-300 premium compared with the lowest storage options.
Along with these rumored increases, it has also been mentioned that
Cupertino may ditch the 16 GB base storage version
. In a move that would make complete sense given that some individual apps and games creep well into the multiple gigabytes nowadays, the fruit company may instead push the entry-level iPhone 7 and iPhone 7 Plus up to a much healthier-looking 32 GB.
The current
iPhone 6s duo
offers 16, 64 and 128 GB options, though Apple is said to be unsure of whether to scrap the 64 GB model. If Tim Cook's firm does decide to remove the current mid-range capacity—and the report of the 16 GB model's demise is to be considered—the iPhone 7s and 7s Plus could both be available with 32, 128 or 256 of on-board ROM. Since the TrendForce report notes the cheaper cost price of NAND flash as a reason for the increases, fans will be hoping that the next models can add more space without any sort of price hike on the current tiers for each model.
Finally, the report reaffirms the notion that the iPhone 7s Plus will be treated to
3 GB of RAM and a dual-lens camera
. The iPhone 7, meanwhile, is set to stick with 2 gigs of RAM, and likely won't employ such grandiose camera components.
Would you be interested in an iPhone with so much storage? Let us know of your take in the comments.