Boost finding it hard to manage traffic through its $50 unlimited plan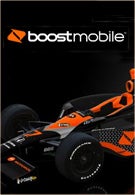 For some time now,
Boost Mobile's
$50 unlimited voice and text plan has been growing more and more popular. However, it now seems that the Nextel´s network capacity is insufficient to cope with the traffic generated by customers on this plan, informs The Associated Press. As a result – many users are complaining their text messages reach the recipients hours after they have been sent. While this may not be such a big deal for the few remaining fans of voice communication, most heavy texting users will surely demand that something be done and fast! If you are on Boost's $50 unlimited plan, feel free to share and leave a comment below on whether or not you have experienced similar issues.
*Update*: The Wall Street Journal Blog has now informed that John Votava, a Boost Mobile spokesperson, has confirmed that the company is aware of the issue and is already working to solve it. What's more, the official assures that all problems should be dealt with by May 7 at the latest.
source:
TheAssociatedPress
,
WSJBlogs