BlackBerry's days with the U.S. Senate are coming to an end
50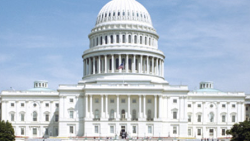 A notice sent throughout the U.S. Senate reveals that once the Senate's inventory of BlackBerry handsets is depleted, the brand will no longer be available to those staff members who are allowed a new phone as a perk. Those staffers who currently own a 'Berry can exchange it for a 16GB
Apple iPhone SE
or a
Samsung Galaxy S6
.




UPDATE:
According to a letter sent to those affected by the decision, the Senate's action came after BlackBerry informed Verizon and AT&T that there will be no more BlackBerry 10 OS powered handsets. Staffers can still order the
BlackBerry Z30
,
BlackBerry Classic
,
BlackBerry Passport
,
BlackBerry Z10
and
BlackBerry Q10
. Most of the Senate's inventory consists of the Classic and the Z30. Overall, the Senate holds about 600 BlackBerry units so those who want one can still get one.
"From: Notice (SAA)
Sent: Wednesday, June 29, 2016 3:56 PM
Subject: BlackBerry Discontinuation

This message was sent to Administrative Managers, Chief Clerks, and System Administrators.

BlackBerry Discontinuation

BlackBerry informed Verizon and AT&T that production of all BlackBerry OS 10 devices (Q10, Z10, Z30, Passport, and Classic) has been discontinued. Future carrier order fulfillment will not be guaranteed due to limited remaining stock.

BlackBerry device support will continue for the foreseeable future. BlackBerry is committed to maintaining their support of our devices to include uninterrupted warranty and technical support.

Once we have exhausted our current in-house stock, new device procurements will be limited, while supplies last, to warranty exchanges only.

As of June 29, 2016, our BlackBerry device stock levels are:

RIM Classic Verizon BlackBerry – 275

RIM Z30 Verizon Black BlackBerry – 160

RIM Classic AT&T BlackBerry – 45

RIM Passport AT&T BlackBerry – 45

RIM Z10 AT&T Black BlackBerry – 45

RIM Q10 AT&T Black Blackberry – 40

For offices wishing to make the transition from BlackBerry devices to other platforms, Verizon has agreed to suspend eligibility upgrade requirements for users migrating to Samsung S6 Android devices. Additionally, the $0 16GB iPhone SE has been added to the Technology Catalog, although current eligibility upgrade and mandatory AppleCare+ requirements apply."-Letter sent to Senate staffers
We imagine that there are some Senate staffers who think that there is an amendment in the Constitution that gives them the right to bear a BlackBerry. For those hard core fans, they can keep their 'Berry as long as it is working and the company is offering support for it. This means that if you make a trip to the Senate building, you're apt to see some political types clutching onto their BlackBerry handset for dear life.
source:
Politico
via
SlashGear