BlackBerry still beats the competition on security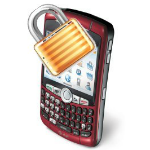 BlackBerry has not been having the best time recently. RIM has been taking hits from every side, and BlackBerry has been losing support, but it does still have one thing to be proud of: according to research, the platform is still by far the most secure mobile OS around. Altimeter Group and Bloor Research (on behalf of Trend Micro) did a pretty in-depth analysis of the strengths and weaknesses in the security features of each of the big 4 mobile platforms - BlackBerry, iOS, Android and Windows Phone - and found that BlackBerry is still by far the most secure.
The analysis rates the platforms on 46 different factors in 12 different categories, then averages all the scores together. BlackBerry came out well ahead of the competition with an average score of 2.89 (out of 5); iOS and Windows Phone came in about even at 1.7 and 1.61 respectively; and Android came in last at 1.37. We should point out though that Android was rated based on version
2.3
(Gingerbread), because that is still the most widely used version on the market, while the other platforms were rated based on their newest versions (BB 7, iOS 5, & WP 7.5). Trend Micro does make the point that this delay in updates in the Android ecosystem is itself a security risk, because handsets do not get critical fixes. It would have been nice to see how Android 4.0 Ice Cream Sandwich rated, so we could know exactly how big of a difference the update makes in terms of security, but it seems we'll have to wait on that data. The report does specifically mention that ICS does add full device encryption and other improvements.
The way the numbers shake out are pretty interesting, but not all that surprising, as the ratings do conform generally to the maturity of each OS. BlackBerry has been around the longest, and has always made its name on enterprise and security, while the others are all relative newcomers. And, of course BlackBerry is the only one to feature a device firewall, which adds quite a bit. Interestingly, the report points out that iOS and Android both have issues with the way they handle app security. On iOS, each app is "sandboxed", but that ends up meaning that the OS is only as secure as the weakest app. Whereas, on Android, the standard of having users approve permissions for each app on install is "theoretically more secure", but runs into trouble by putting trust in the user to make the right decision rather than the system.
If you want to really dig into the numbers, jump to the source. It's certainly interesting. Still, we have to wonder if BlackBerry can stay on top with BlackBerry 10, since it is essentially a completely new system, and may not have the built-in security of the more mature BB 7. Windows Phone is showing some impressive options for such a relatively new system. And, as ever, slow updates from manufacturers are hurting Android's potential.