BlackBerry Torch 2 shows off its pretty VGA touchscreen & 1.2GHz processor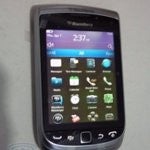 Granted that it's still one of the more desirable BlackBerry smartphones on the market still, the BlackBerry Torch 9800 probably soured some hopes out there when it released with its less than sufficient hardware specs.
Well, the
BlackBerry Torch 2
is gunning to make it the worthy handset it should have been from the start – while closely resembling its predecessor. The latest images snapped of the upcoming successor shows a handset that doesn't steer away from the design cues found with the original BlackBerry Torch 9800, but the more impressive aspects about it are found
under the hood
.
In fact, the Torch 2 is sporting a
higher resolution VGA (480 x 640) touchscreen
to give it that much needed pop to its aura. Moreover, it's also going to be packing a
super speedy 1.2GHz processor
that should have no qualms dealing with BlackBerry OS 6.1. Aside from those two specifics, the rest of the device is pretty much shaping out to become the same as the original.
Regardless of that, it should nonetheless get some good looks by some people out there, but it'll more than likely get an official introduction next month at BlackBerry World 2011.
source:
BGR
via
SlashGear