BlackBerry Tablet OS 2.0 leaks in a set of spy photos, Android apps support for the PlayBook may be near
7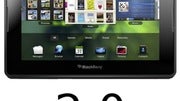 With a chunk of essential native apps missing from its software arsenal, the BlackBerry PlayBook is still one of the underdogs of the tablet market. Sure, RIM has been pushing software updates every once in a while adding some extra functionality to the device, but the lack of dedicated email and calendar applications is taking away a lot from the BlackBerry experience.
Fortunately,
one huge software update for the BlackBerry PlayBook
is rumored to be coming down the road, and what we have here, folks, is a handful of spy shots to back this claim up. If the leaked images are to be trusted, RIM's tablet will not be treated only to email, contacts and calendar apps, but will also receive Facebook, Twitter and LinkedIn integration. BlackBerry Messenger appears to be in tow as well and an icon depicting one very familiar green robot hints that support for Android apps on the PlayBook will finally become reality.
Sadly, there are no clues regarding to the update's release, but according to rumors, version 2.0 of BlackBerry Tablet OS might be unveiled at BlackBerry DevCon, which is to begin on October 18.