BlackBerry Storm 2 to be launched around October 25th?
This article contains unofficial information.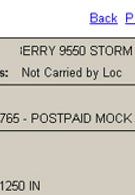 BGR just received a leaked photo of Best Buy's inventory screen which shows that the dummy model for the BlackBerry Storm 2 9550 will be in stock at the big box retailer on October 25th. Great, you're thinking, what about the real model with all the chips and battery and stuff like that? Well, the retail launch usually comes just a few days before or after the dummies are received. This means we can expect the Storm 2 to launch sometime around October 25th. All of you Storm fans who have been waiting to get your hands on the sequel will have to rearrange your calendar, but you have to admit that it is better that RIM releases a unit prepared for use right away, rather than the shape the first-gen Storm was left in last November when it was launched. Both RIM and Verizon have yet to actually admit that this phone exists, so you first-gen Storm owners can still hang on to your slim hopes that you might get a bone tossed to you for putting up with the pain.
RIM BlackBerry Storm 2 9550 Preliminary Specifications
source:
BGR