BlackBerry Essex. aka Tour2, is now the 9650; unlocked unit sells for $1388.99 on eBay
This article contains unofficial information.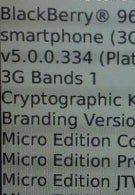 According to BlackBerry Guru Salomindrin, the Essex, also known as the Tour2, now has an official number-9650. The original Tour is BlackBerry 9630. The major difference between the two models is basically the inclusion of Wi-Fi on the Essex and the 5.0 BlackBerry OS on the newer model. With the release of the official number for the unit, a launch of the 9650 cannot be too far away.
For one cellphone fanatic, no price was too high to get this device in his pocket. On eBay, a highly rated seller was able to unload a factory unlocked model of the BlackBerry 9650 with 3G and Wi-Fi for $1,388.99. While pricing has not yet been discussed for the 9650, it would be a safe bet to say that the price paid on eBay is substantially more than what the phone will go for upon launch. This particular model has a series of ID numbers etched on the casing. The OS on the handset is 5.0.0.402. While the winner of the auction is the first person in the world to pay for the Essex/Tour2, the seller (who we can assume knows something about RIM's inner workings to have been able to get his hands on the phone) says on his listing page that the official release of the 9650 will be sometime between March to July 2010. The seller is given to a bit of hyperbole, calling the 9650 the "iPhone killer". If you are a touchscreen fan, the 9650 might not even be a 9550 killer!
source:
Salomondrin
,
eBay