BlackBerry CEO Heins talks BlackBerry Q10
9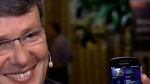 For weeks now, we've constantly been pounding the idea that BlackBerry should have released the QWERTY-equipped
BlackBerry Q10
first instead of the all-touch BlackBerry Z10. BlackBerry CEO Thorsten Heins was hoping that having a competitive BlackBerry touchscreen model ready would allow those who bring their own device to the office, to replace their work issued BlackBerry with the
BlackBerry Z10
instead of the Apple iPhone or an Android model. Heins got too hung up on the idea that employees were bringing touchscreen phones to work. What the executive didn't realize until now, was that long-time BlackBerry fans never fell out of love with the BlackBerry QWERTY. What they wanted was exactly what the Q10 gives them, a mixture of a touchscreen in addition to the QWERTY keyboard.
In an interview with Bloomberg Television, it seems that Heins is now coming around to the idea that traditional BlackBerry users would rather type on a keyboard as long as they have the ability to navigate on the rest of the phone using a touchscreen. Heins, noting that the BlackBerry Q10 is $50 more on contract than the
Apple iPhone 5
, called the Q10 a "high quality" phone for hyper-connected multitaskers who need to get the job done.
On Sunday night, we told you that an exclusive deal with U.K. retailer Selfridges
made the phone the fastest selling consumer electronic device ever sold
at the store during the weekend's launch. During the interview, the CEO mentions that
tens of millions
of BlackBerry Q10 units are expected to be sold, although it wasn't clear what timeframe he was talking about. It now sounds as though Heins sees the error of his ways and realizes that it could be the more old fashioned of the two current BlackBerry 10 models that makes waves. And considering
T-Mobile's last minute decision to jump into the BlackBerry Q10 game last week
, it seems that others have started thinking the same way.
source:
BloombergTelevision
via
BerryReview