BlackBerry CEO Heins excited about high-end BlackBerry model coming this holiday season
27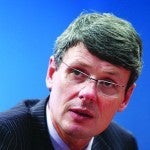 BlackBerry CEO Thorsten Heins said in an interview on Thursday that a
high-end flagship
BlackBerry 10 model will be launched for the 2013 holiday season. Heins said that he is excited about the model which "
takes Blackberry 10 to another level in terms of the user experience
." The executive also said that the timing of the phone's arrival is not set in stone and it could launch in 2014. Heins said that a mid-range model will be made available later this year and the physical QWERTY equipped
BlackBerry Q10
would hit the same markets that the
BlackBerry Z10
did, albeit one to two months afterward.
The CEO confirmed that the company's goal is to build
three tiers of products
, each with an all-touch and a QWERTY-equipped model. All of the phones will have the same 4.2 inch screen and resolution found on the Z10 to allow developers to write apps that look consistent across the board. While we are excited to hear about a new high-end BlackBerry 10 model for later in the year, we wonder how many people planning on buying the BlackBerry Z10 tomorrow
when it makes its U.S. debut via AT&T
, will now hold off to wait for the upcoming top-shelf BlackBerry 10 device.
source:
CNET