Best Unlocked Phones in 2023: A Guide to Phone Freedom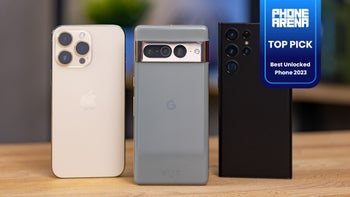 After years of reigning supreme, carrier-locked phones are now actively rivaled by unlocked devices that can be used across multiple carriers and in combination with different phone plans. More and more customers are starting to see the benefits of that, so unlocked phones are at the height of their popularity and availability. Pretty much any of the
best iPhones
out there or the
best Android phones
available come unlocked as well.
First of all, it's important to outline why it's important to consider getting an unlocked phone. Overall, it's rather simple—getting an unlocked phone doesn't bind you to a carrier or a service, allowing you to switch carriers, change services and plans as freely as possible and as easy as swapping a sim card. Another benefit is that these usually lack some of the extra apps that carriers tend to preload on their locked phones.
So, which is the best unlocked phone out there? Which unlocked handset will get you the clearest phone calls, the best battery life? Should you go for the affordable price tag or go with a premium unlocked iPhone?
Best unlocked phones to consider in 2023:
So, which among these unlocked phones should you pick?
To begin with, you must pick between the iOS and Android ecosystems. However, you've probably already done that as either is as mature as it gets, so you already know what phone you potentially want, whether it's an iPhone or an Android champ.
After you've selected your decision, you'll need to evaluate the form factor and size you want for your unlocked model. Should you think what's best for your fingers or Yet, no matter which ecosystem you go for, you will be capable of scoring any of the great unlocked phones.
The most versatile phone of 2023
The super-versatile
Samsung Galaxy S23 Ultra
, Samsung's update to its flagship lineup, was unveiled in early February 2023. The latest Samsung flagship is building upon all the essential pillars that make for an exceptional and premium phone experience: not only is it introducing a rather noticeable bump in performance that puts it way above its predecessor and on par with its biggest competitors, but also enhanced camera that now weighs in at the respectable 200MP, and could potentially take exceptionally detailed photos.
Truly, the Qualcomm chip inside is a custom Snapdragon 8 Gen 2 tailored specifically for Samsung's new Galaxy S23 series, and truly delivers in terms of performance and efficiency, but what's more important here is that it has been chosen as the exclusive chipset of choice in all regions around the world. That's new, as Samsung previously opted to adorn its international Galaxies with the yearly Exynos flavor.
You can get the Galaxy S23 Ultra as an unlocked device straight from Samsung.com, or most all major online and brick-and-mortar retailers. One perk of getting the unlocked phone from Samsung's own online store is that you can pick among four exclusive colors: Lime, Graphite, Sky Blue, and Red. Honestly speaking, all these look way snazzier and more exciting than the slightly muted and unexciting colors that the regular Galaxy S23 Ultra is available in.
Apple iPhone 14 Pro Max
With its Dynamic Island punch-hole, improved rear cameras that deliver better picture quality, huge 6.7-inch OLED display with 1-120Hz refresh rate, and always-on display functionality, the
iPhone 14 Pro Max
is Apple's best and most technologically advanced new Apple iPhone and easily one of the best unlocked phones you can buy in early 2023.
The phone includes Apple's latest A16 Bionic chipset, 6GB of LPDDR5 RAM, and will be offered in 128GB, 256GB, 512GB, and the top-of-the-line 1TB storage options. With long battery life, this Apple iPhone is among the best all-around flagship phone offerings out there, capable of rivalling the best Android phones, be it Samsung's Galaxies or Google's Pixel phones.
The camera on the Apple iPhone 14 Pro Max and its new 48MP sensor may be one of its main selling points. Compared to Apple's previous 12MP cameras, it has substantially superior detail and low-light image quality since it employs a 1/1.3-inch sensor with quad-binning. There's a better front camera as well.
Overall, we'd rate the top-end Apple iPhone 14 Pro Max as possibly the best among the unlocked phones available out there. It's among the more expensive phones to buy unlocked, but worth it nonetheless.
Apple iPhone 14 Pro
Best compact but powerful iPhone of 2022
The more compact of the latest iPhone flagship phones, the
Apple iPhone 14 Pro
comes with a 6.1-inch ProMotion OLED display with a 1-120Hz refresh ratio that allows Apple to utilize an always-on display functionality.
The iPhone 14 Pro also has an improved main camera, utilizing a 1/1.3-inch 48MP camera sensor, which uses pixel-binning to achieve much better light sensitivity. The ultra-wide and 3X telephoto lenses still weigh in at 12MP. The front camera now has a wider, faster F1.9 aperture and autofocus.
Battery life of this one is more than decent, but not as good as the Apple iPhone 14 Pro Max. Thus, the major differences between the iPhone 14 Pro Max vs iPhone 14 Pro mostly stem in the battery size and display real estate. Those two are the best unlocked smartphones right now if you're favoring Apple's camp.
A return to form for OnePlus, excellent performance and value
The
OnePlus 11
was announced in early 2023, and is for all intents and purposes, the company's return to form, which was a bit lost in recent years. With excellent hardware and the right price tag attached, it's a very decent phone that should be considered by anyone looking into getting an unlocked Android phone that's not a Galaxy in the US.
Equipped with a tack-sharp 6.7-inch OLED display with a 120Hz refresh rate, as well as the latest and most powerful Qualcomm chip, the Snapdragon 8 Gen 2, the OnePlus 11 doesn't settle for mediocre hardware. There's also 5,000mAh battery on board that keeps the lights on for at least a day, though its battery life is fairly average in comparison with some popular rivals.
What's more, the OnePlus 11 comes with a rather decent camera, which delivers great results in the most common lighting conditions. A decent 50MP main camera joined by a 48MP ultra-wide snapper and a relatively short 2X telephoto camera that measures at 32MP, as well as a 16MP selfie camera complete the OnePlus 11 specs sheet.

While the OnePlus 11 won't be sold on T-Mobile, which was a long-time partner for OnePlus, it can be purchased as an unlocked device on BestBuy, Amazon, other outlets, as well as OnePlus' own website as well. Starting at $799, it's priced very well to compete with the rest of the best on the market.


Samsung Galaxy S22 Ultra
The best Android phone of 2022, still very good value

The definitive Samsung flagship phone, the unlocked
Galaxy S22 Ultra
supports all US carrier bands out of the box. This is possibly one of the best unlocked Android phones out there, so you can bring it to your favorite carrier no matter where you get it from. It's a successor to the Samsung Galaxy Note, a phone that would do much more than simply making phone calls.
The Galaxy S22 Ultra comes with the Snapdragon 8 Gen 1 (or Exynos 2200), has a 6.8-inch QHD+ display with the ultra-smooth 1-120Hz refresh rate, a truly massive 5,000mAh battery, wireless charging, some 128GB of native storage, and probably most importantly, it has a built-in S Pen stylus accessory on deck that lets you quickly jot down notes, draw, take precise screenshot, and so much more.
Battery life, while improved, isn't on par with some other devices, but the Galaxy S22 Ultra's battery life would still last you a day. The only thing that's seemingly missing is a microSD card slot.
It's certainly what we'd describe as one of the best-value flagship among all unlocked phones currently on sale, as you definitely get a lot more in comparison with some of its direct rivals.
Samsung Galaxy Z Fold 4
The most advanced foldable phone in the US

The latest Samsung foldable phone, the Z Fold 4, once again pushes the limits of what's possible on a
modern foldable phone
. Surely, it's a among the most expensive unlocked phones out there, but the premium is worth it.
The
Galaxy Z Fold 4
improves on some of the key Galaxy Z Fold 3 features. For example, it has the latest Qualcomm Snapdragon 8+ Gen 1 chipset, a slightly different design, a lightweight build, a triple camera system similar to the Galaxy S22 and the Galaxy S22 Plus, and a slew of multi-tasking features. It also has a new under-display camera, which should be a little harder to spot. It also ships with Android 12L and Samsung's latest One UI 4.1.1 software.
Aside from having exceptional hardware for a foldable phone, the Galaxy Z Fold 4 also has a range of software tricks to make good use of its screen real estate. The most beneficial one is a desktop-like dock that allows for quick and easy multitasking by displaying your favorite and recent apps, including app pairs, as a dock at the bottom of the screen. This Android phone also has a pretty good battery life for a foldable, though an iPhone would generally get you better battery life.
Google Pixel 7 Pro
Stock Android, user-friendly interface
Could this be the best unlocked phone for most people? The
Google Pixel 7 Pro
is powered by Google's second-gen Tensor G2 chipset, which once again puts emphasis on the user experience and overall functionality instead of raw performance. The Google Pixel 7 Pro is an Android phone still comes with lots of camera improvements including a new telephoto camera, utilizing what may consider the best cameras on Android, and is always on time for the next Android update.
But this doesn't mean that the hardware is severely lacking; on the contrary, the Google Pixel 7 Pro is an incredible deal at its starting price of $899. And, of course, you can buy this phone unlocked as well
Of course, you can opt out for the Google Pixel 7 instead, especially if you want a more compact device. Sans for the extra telephoto camera on the Pixel 7 Pro, the Pixel 7 will offer mostly the same overall user experience and is definitely among the best value phones right now. Battery life on both is more than reasonable, making them very decent Android flagships.
Are there any drawbacks and limitations to buying an unlocked phone?
Unlocked phones are a bit pricier than carrier-subsidized ones as they need to be paid in full. Many unlocked phones also don't benefit from the same kinds of sweet deals and discounts that carriers offer for their locked variations.
If you're after just about anything, that could be your cup of tea, but the best deals, especially around the Black Friday craze, are always found on the carriers, and that usually involves buying a carrier-locked device.
Another drawback is the potentially prolonged service downtime in case your phone needs to go for repairs or another warranty issue. Carriers tend to be a little faster in terms of such repairs, so have that in mind.
Finally, unlocked phones tend to get updated later than their carrier versions in come cases, which could be an unexpected downside of those unlocked devices out there.
What are the best places to buy an unlocked phone?
The best outlets to get unlocked phones are manufacturers' own websites, which wouldn't always offer the same deals as the carriers. You can also score unlocked phones on all the major e-commerce and online retailers, like Amazon, Best Buy, Walmart, Target, and more. Have in mind that these retailers and outlets tend to also sell specific carrier-locked versions of the same devices, so being vigilant when buying a new device is always paramount.
For the most competitive prices, we'd recommend checking out Amazon and Best Buy's offers on the regular.
You can definitely look for awesome door-busting deals during Black Friday, Cyber Monday, and Amazon's Prime Day, which are all some of the biggest shopping festivals of the year and tend to give us tons upon tons of excellent unlocked Android device, be it a Google Pixel, a Samsung Galaxy, or an iPhone. Most of the excellent deals on phones we saw during the last Black Friday, for example, were of unlocked phones.
Will my unlocked phone work with all major US carriers?
Most of them would, though you will always have to do your research and act accordingly. Some phones might not support specific 5G bands, for example, which would render it impossible for you to use them as intended on the specific cellular network.
Previously, differences between CDMA carriers and GSM carriers rendered some carrier-locked phones incompatible with the competing network, but these days are now mostly over.
These days, most of the popular flagships and
midrange phone
devices are compatible with just about any wireless network in the US, allowing for much greater flexibility when it comes to choosing your carrier or wireless service provides.