Best tactical role-playing games for the iPad
4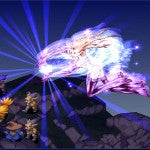 Are you the kind of person that enjoy games that require a lot of thinking and strategy? Something that also needs a ton of time invested on it to really get the most out of the game? Well then folks, if this sound more like your thing, then you might as well set your sights on the
tactical role-playing genre
, which unlike action games, works more like a game of chess. Rather than controlling a character that blows stuff up, tactical role-playing games demand the utmost amount of concentration with every action you perform – since the smallest move can have an adverse effect on how things pan out in the game.
For those who happen to own any of the
iPads
out there, whether it's the fuller sized offering or its mini-sized sibling, there are no doubt plenty of titles in the tactical role-playing genre to choose from. Sure, you can go through several titles before finding one that really fits the bill, but we're here to help you out quite a bit with the search. Therefore, rather than possibly paying for some of the titles that'll disappoint you, we've done the research already in uncovering some of the
gold
in this specific gaming genre.
Now don't blame us if these games somehow end up sucking you in, which they will do one way or another – mainly because they have
compelling storylines
to accompany the strategic game play. Before you get engrossed in any of these titles, just be courteous in telling family and friends that you might be missing in action for some time. Without further ado, here are the
best tactical role-playing games for the iPad
.
Best tactical role-playing games for the iPad