Best new Android and iPhone games of the week (June 30th - July 5th)
3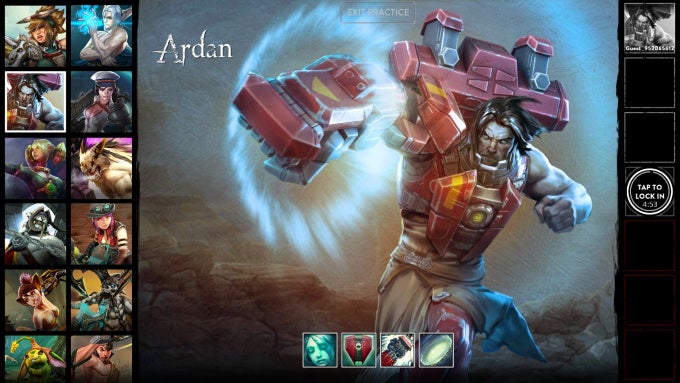 Let's start off the week with some fun with the best new Android and iPhone games so far in July 2015! In our weekly round up of the best new Android and iPhone games we introduce you to everything new and worthy with no limits to the genre, platform, or price. We can't guarantee that you'd love the genre of the game we've picked, but if you do, chances are you'd spend hours playing one of these games.
Vainglory has arrived to Android
The big news of the week is, naturally, the big launch of Vainglory - the hugely popular massive online battle arena (MOBA) game - on Android. After a lot of testing, the game has appeared on the Google Play Store and has been updated on iOS, so that many more people can join in the fighting action. A new hero - Rona - has also arrived, which is nice.
Another high-profile launch that is fascinating is the curiously drawn fighting game The Executive. With its peculiar graphics and engaging gameplay, it's a lot of fun to play. This is far from all, though: there are quite a few games that are worth checking out, so with no further ado, take a look at the best new Android and iPhone games of the week.
Vainglory
Price: Free with IAP
Genre: MOBA
(new for Android only)
Vainglory is developed specifically for touch-based controls and is a real treat for MOBA-craving gamers who are often on the go. It's free-to-play and the developer claims that players will be able to unlock content by playing through the game normally, but will also have the choice to pay if they wish to unlock things faster. The game is designed for quick, 20-minute matches – a good middle ground between short, mobile-friendly rounds and full-blown Dota-like slugfests.
The Executive
Price: $2.99 (launch sale)
Genre: Fighting
The Executive is a fast-paced, cinematic, martial arts action game designed from the ground up for iPhone and iPad. You are the CEO of a company that has been infiltrated by werewolves, and it's your job to save your employees, and eventually the entire city, from their dastardly schemes.
Xenowerk
Price: $1.99
Genre: Top-down shooter
(new for Android only)
Xenowerk is a top-down action shooter challenging your combat skills in an underground science lab. Descend deeper into the abyss and explore the tarnished levels. Armed with a flashlight as your main guidance, you'll never know what's lurking in the dark. Your objective is to destroy all the nests and eliminate all mutants to prevent them from spreading.
Exsilium
Price: Free
Genre: 3D Action RPG
Exsilium is a physics based 3D action RPG game, where you explore different worlds with your customized character, fighting your way forward with a sword or a gun in your hands. As one of the explorers of V.E.P., you have been assigned to survey a newly discovered planet. However, as soon as you arrived, the whole ship went out of control.
Geometry Wars 3
Price: $4.99
Genre: Arcade shooter
(new for Android only)
An arcade shooter of geometric perspective and challenging dynamics, Geometry Wars 3 brings 50 adventure levels with a wide variety of 3D grid shapes, game modes, and boss battles, and over 10 battle modes including Pacifism, King and Claustrophobia.
Sword of Xolan
Price: $0.99 | Free with IAP
Genre: Action platformer
Sword of Xolan is an action platformer game with a colorful pixel art environment. The story revolves around Xolan, a young and brave man who fight for justice no matter what the cost, and this time Xolan is on an adventure against dark forces and on a mission to restore peace. The game is diverse and fun to play, with 30 hand-crafted adventure levels, 9 time-based challenge levels, 3 "End Of Act" bosses, and more than 30 different enemies like: zombies, giants and flying creatures.
Divide by Sheep
Price: $2.99
Genre: Puzzler
Divide By Sheep is a math puzzler about the Grim Reaper's devious plan to make some sheepy friends. Grim can only befriend the dead, so he decided to unleash a great flood and drag the sheep under. Now stranded on small islands and sinking fast, the sheep need you to help them reach safety.
King of Dragon Pass
Price: $9.99 ($4.99 launch price on Android)
Genre: RPG
(new for Android only)
With hand-painted artwork and a deep, interactive story with an ultimate level of complexity, King of Dragon Pass is engaging mix of RPG and strategy.
The Abduction of Bacon at Dawn, the Chronicles of a Brave Rooster
Price: $2.99
Genre: Platform shooter
The Abduction of Bacon at Dawn, the Chronicles of a Brave Rooster is an action and humor-packed platform shooting game for iOS. The story of the game revolves around Earth being invaded by hungry aliens that are abducting our pigs…But, why pigs?! Soon after the invasion began, the scientific community made a shocking discovery: eating bacon is vital to our health and should be consumed in large quantities. That's why the aliens are here!
Pixel Dungeon
Price: $2.99
Genre: Roguelike
(new for iOS only)
In this roguelike game you explore the depths of Pixel Dungeon, collect useful items and fight fierce monsters to find the Amulet of Yendor - the ultimate artefact of this game world.
Lego Batman: Beyond Gotham
Price: $4.99
Genre: Action adventure
You get to play as Batman and form alliance with other DC Comics characters in this new action-adventure release. Play and unlock more than 100 characters with amazing powers and abilities, including members of the Justice League, BIG LEGO Figures such as Solomon Grundy, Lantern heroes and villains, and much more. Grant heroes even more powers with super suits such as Batman's bomb-igniting Demolition Suit, Robin's elite hacker Techno Suit, Cyborg's incognito Stealth Suit, and the Joker's tricky Decoy Suit.
Escape
Price: Free
Genre: Endless
A typical Ketchapp release, Escape is a fun to play endless casual game with a captivating outworldly atmosphere where you get to navigate a rocket escaping a world that is falling apart.