Best new Android and iPhone games of the week (July 7th - July 13th)
3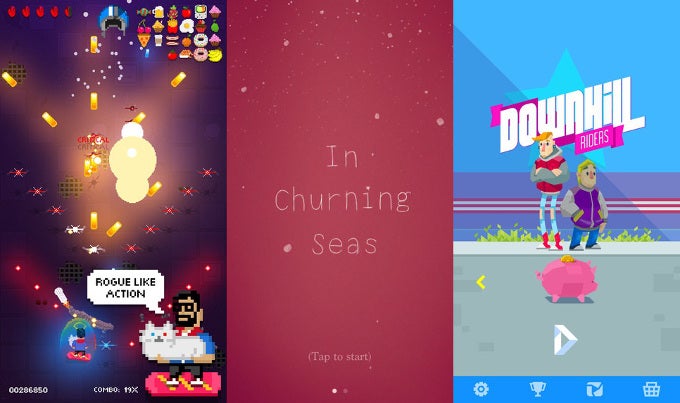 Let's start off the week with some fun with the best new Android and iPhone games so far in July 2015! In our weekly round up of the best new Android and iPhone games we introduce you to everything new and worthy with no limits to the genre, platform, or price. We can't guarantee that you'd love the genre of the game we've picked, but if you do, chances are you'd spend hours playing one of these games.
Some of these games have truly gone viral
This week's highlights start with a port that has arrived to the iPad - Don't Starve: Pocket Edition is tailor-made for a touch screen and is an immersive action-adventure set in a mysterious world. We've also included a few games that are not exactly new, but that have reached a viral status in recent days, and Agar.io is one such game - the massive online multiplayer release is a joy to play and compete against others.
While there's no high-profile releases in this past week, we feel that these new games are a lot of fun to play with - especially if you're looking for something fresh. With no further ado, here are the best new Android and iPhone games of the past week.
Don't Starve: Pocket Edition
Price: $4.99
Genre: Action-adventure
In the remake of the popular PC title, Don't Starve: Pocket Edition allows you to play as Wilson, an intrepid Gentleman Scientist who has been trapped and transported to a mysterious wilderness world. Wilson must learn to exploit his environment and its inhabitants if he ever hopes to escape and find his way back home. Enter a strange and unexplored world full of strange creatures, dangers, and surprises. Gather resources to craft items and structures that match your survival style. Play your way as you unravel the mysteries of this strange land.
Splendor
Price: $6.99
Genre: Board game
Splendor is a strategy turn-based card game, where players assume the role of wealthy Renaissance merchants, exploiting mines and caravans, hiring craftsmen and leveraging their influence with the nobility. The goal is to get the biggest gem network and become the most influential merchant.
Perfection! 3: The Chain
Price: $1.99
Genre: Strategy
Perfection! 3 is an all new, fast paced, strategy game, where ouching one of the dots will make it shoot off in the direction of its arrow. If it hits another dot, then that dot will move off in the direction of it's own arrow. The dots chain together like this until one of them reaches the edge of the game board. As you remove dots from the game board, new dots are added in their place. Red dots are randomly added among them and cause you serious damage. Hit a red dot and not only do you lose a life, the score you chained together will be subtracted from your total score instead of added.
Lego Minifigures Online
Price: $4.99
Genre: Action
Lego Minifigures Online is an online game for LEGO fans of all ages, where you get to collect awesome Minifigures, build your own unique team and go on exciting adventures through classic LEGO worlds. Smash your enemies with your awesome guitar riffs as the Rock Star, or transform yourself into a spider with Spooky Girl. In this game, you get to classic Lego worlds, stretching from pirate-infested tropical islands to the vacuum of space. Battle dragons, sea monsters, dinosaurs, aliens and much more, as you go through unique and colorful locations brimming with things to see and do.
Agar.io
Price: Free
Genre: Massive online multiplayer
Agar.io is a massive online multiplayer game which pits... cell organisms against each other. It's not exactly a new game, but its viral status has only hit us now, and we're rushing to update you on this latest craze. The goal is very simple, you just have to gobble everyone up, and become the largest cell in the Agar universe, evading the bigger guys, and chasing the small fish.
The larger you become, the slower you trud along, so it becomes exponentially more difficult to chase those tiny, fast newcomers, unless they bump into you, which also happens quite often due to your sheer size. At this moment, you can divide and conquer, splitting a larger body into smaller, more nimble circles. Those can be eaten more easily in their turn, so Agar.io quickly turns into a casual, but very dynamic game of survival. It's very easy to play, and the other player's nicknames, written inside the bubbles, are a big part of the fun, so if you are curious about the latest craze, give it a go from the links below.
Shooting Stars!
Price: $2.99
Genre: Shoot'em up
Shooting Stars is a refreshing colorful take on the classic arcade shoot'em up, bullet hell, shmup, space invader like, whatever you want to call it – but finally, with evil aliens disguised as superstars, cats and rainbow lazers. Superstars like Justin Belieber, PewDerPie, Kanye East and many more.
Magic Duels
Price: Free (with in-app purchases)
Genre: Card game
Magic Duels is a new card game, where you get to immerse yourself in the world of Magic: The Gathering's exciting new Origins campaign as you play through the stories of five iconic Planeswalkers. Hone your skills and build your deck of spells from an ever-growing library of collectible cards, then take on your friends or thousands of AI opponents in Battle Mode.
Downhill Riders
Price: Free (with in-app purchases)
Genre: Endless
Bob and Tod are two nearly brain dead teenagers with a cherished dream of becoming youtube stars. They spend day and night on Nob Hill practicing crude, self-injuring stunts and recording them on camera in hopes to take a perfect shot. Help the guys to safely ride down the hill, collect coins, unlock new equipment and catch your moment of glory!
In Churning Seas
Price: $0.99
Genre: Tower-builder
In Churning Seas is an atmospheric, physics-based puzzler in which you pile up and balance uneven, procedurally generated shapes over the strong bedrock of some long-forgotten primordial sea. Cleverly using some shapes as levers and others as counterweights, thinking fast and strategically spending sparse special-effect tokens, your goal is to build a safe, sound structure and climb as high as possible before the ever-rising sea catches up on you.