Best new Android and iPhone games of the week (August 25th - August 31st)
0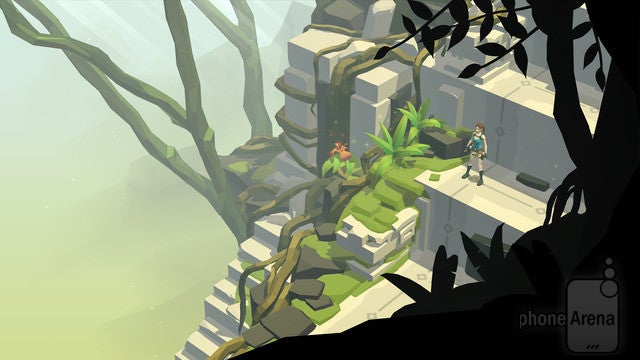 Let's start off the week with some fun with the best new Android and iPhone games so far in August 2015! In our weekly round up of the best new Android and iPhone games we introduce you to everything new and worthy with no limits to the genre, platform, or price. We can't guarantee that you'd love the genre of the game we've picked, but if you do, chances are you'd spend hours playing one of these games.
Lara Croft GO is a beautiful puzzler
This week we have an avalanche of new releases, and among them some games that you will play for quite a while. Headlining our selection is the beautiful new puzzler Lara Croft GO, a game by the creators of Hitman GO, and it's a beautifully drawn puzzle adventure game featuring everyone's favorite explorer Ms. Croft.
We were also pleasantly surprised by the launch of Flats, a new first person shooter with a dynamic gameplay in the best FPS traditions and an interesting take on graphics. Naturally, all the fun here is in the multitasking mode.
These are just a part of our full selection of the best new Android and iPhone games for the last week of August. Take a look at the full list of best new games right below.
Lara Croft GO
Price: $4.99
Genre: Puzzler
If you are concerned that the feminine Indiana Jones is about to be transformed into another plastic figurine, you'd be relieved to know that the developers have actually decided to go a different route this time around – one filled with smooth animations and lots of homage to the classic Lara.
Indeed, as seen in the videos below, the game is full with lots of colorful details and smooth, smooth movement. Additionally, the dev team has drawn a lot of inspiration from the old Tomb Raider titles from the '90s, which is apparent in the way that the levels develop, the enemies that Lara encounters, basic character animations and, of course, her attire.
Whispering Willows
Price: $4.99 (50% off launch sale)
Genre: Adventure
Young Elena Elkhorn embarks on a harrowing journey to find her missing father and discover the secrets of the Willows Mansion. Aiding her journey is a unique amulet, she received from her father, which allows her to astral project her spirit into a ghostly-realm and communicate with the dead. Play as Elena to find her missing father, use your astral projection to solves the mansion's tricks and puzzles, help the lingering souls and discover so much more in Whispering Willows.
Flats
Price: Free
Genre: First-person shooter
Flats is a brand new first-person shooter for Android that comes with a full-of-action multiplayer mode, a host of weapons, headshot detection, and more. What makes Flats truly stand out is its flat graphics style along with a colorful fantasy world with stickman where all the action takes place. If you are a single player kind of a guy, the game offers a gradually increasing in difficulty gameplay as your enemies become more skilled and intricate in their shooting skills.
Sage Solitaire
Price: Free
Genre: Card game
Sage Solitaire is a brand new Solitaire variant that combines the luck and joy of Klondike with the depth of Poker. The whole premise of the game revolves around the fact that many of the limitations of card games of the past can be overcome on a modern smartphone: "Isn't it time we had a Solitaire game where the cards were big enough to see and easily touch? Shouldn't there be a Solitaire game light enough to play casually, yet deep enough for swapping strategies with friends?"
And when it comes to the numbers and stats, here's what the game offers:
- Three Different Modes
- Tons of GameCenter Leaderboards
- In-Depth Statistics tracking synced across devices through iCloud
- Loads of Wallpapers and Card Backs
- Night Mode (easy on your eyes for playing in the dark)
Framed
Price: $0.99
Genre: Puzzle
Framed is a noir-puzzle game where you re-arrange panels of animated comic book to change the outcome of the story. It features a simple gameplay, where you grab comic panels and swap them, it's got cosy hand-crafted graphics and animations, and finally, it features an evocative music score featuring live jazz performances.
Calvino Noir
Price: $3.99
Genre: Adventure
The film noir stealth game. Calvino Noir is the exploratory, sneaking adventure through the 1930s European criminal underworld. Architecture meets Noir as you become unwillingly entangled in a revolutionist plot.
Angel Sword
Price: $0.99 (launch sale)
Genre: RPG
Angel Sword is a 3D open-world role-playing game with seriously impressive mobile graphics with both a single-player and multi-player modes. The game's fully open world allows you to swim, fly, and just roam around truly everywhere in this borderless virtual adventure. The gameplay is also quite entertaining as you can enter melee combos, use ranged weapons and have lots of fun.
Sentinel Command
Price: $3.99
Genre: Strategy
Sentinel Command is a sci-fi themed strategy game that blends tactical, turn-based RPG style combat with a real time strategic simulation.
Ember's Journey
Price: $1.99
Genre: Puzzle
Navigate puzzles in darkness, with only the help of a light. Ember's Journey takes places far underground with the only light being the light from Ember. Using only this light, you navigate levels while solving puzzles.
Scribbled Arena
Price: Free
Genre: Battle arena
We love the dynamic gameplay and hand-drawn graphics of Scribbled Arena. These seemingly innocent drawing hide an intense gameplay where you take charge of your tank and head-on for real-time challenges with your Facebook friends or any other player.
The multiplayer modes include a one-on-one death match, where you destroy your enemy and dominate the battlegrounds. You can also play capture the trophy, where your goal is to find the trophy and exit the arena, and finally, you have coin collection crusade.
Looking for Laika
Price: $0.99|Free
Genre: Puzzle adventure
The story of this cute puzzle adventure revolves around aliens who have adbucted your puppy Laika. As an Astronaut, it is your duty to go and save your best friend, while you bounce and jump from planet to planet through different worlds and dimensions.
Magic River
Price: Free
Genre: Casual
Magic River is the newest casual release by Ketchapp that you should know well if you are a gamer. It features beautifully simple controls, neat graphics, and a straightforward (non-sophisticated) gameplay, all in a free-to-play envelope with some a bit tedious ads showing every once in a while.